Interest

New & Improved Lucky Star Portable Shrine Welcomed by 1,200 Cosplayers

posted on by Bamboo Dong
Restored shrine featured at the Kuki City Hajisai Festival
---

The Lucky Star portable shrine has been rebuilt, stronger than ever. It was finished in time for the Kuki City Hajisai Festival, which began on September 1 at the Washinomiya Shrine in Saitama Prefecture. In attendance were 73,000 visitors, including a record 1,200 in cosplay, many of whom made the "pilgrimage" to see the shrine that was featured in the anime.
The newly revamped Lucky Star portable shrine was made possible by the efforts and artworks of nearly 130 fans who helped repair the shrine. The original shrine was made by local residents back in 2008, and featured character illustrations and autographs from voice actors. Unfortunately, it was damaged earlier this year by a typhoon, and city employees have been scrambling to make sure it was ready for this year's Kuki City Hajisai Festival. It was restored with the help of the Washimiya Chamber of Commerce, the Saitama government, and Kadokawa Shoten.
New at the festival this year was a costuming event titled "Shame ☆ Play," a crossplay contest for male fans. The contest was judged by Mac Akasaka — Japanese political activist and frequent candidate for political office, best known in Japan for his bombastic election speeches, which are often delivered in costume.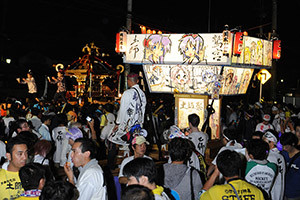 Source: Saitama Shimbun
---