Interest

Hanshin Tigers Reserve Baseball Team Channel X-Men in New Collaboration

posted on by Bamboo Dong
Admittedly, this doesn't have anything to do with anime, but we appreciated these posters too much not to share.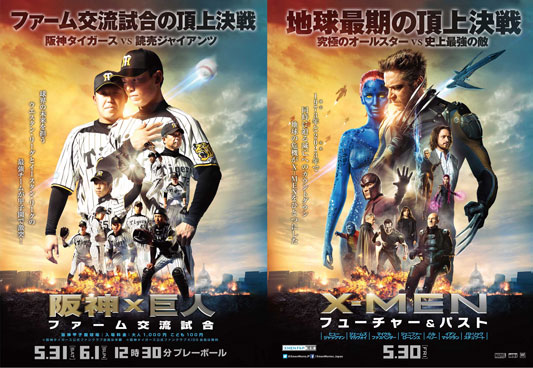 The Hanshin Tigers are doing a promotion with their farm team, the Naruohama Tigers, and the upcoming Bryan Singer flick, X-Men: Days of Future Past. The result? Perfectly coordinated posters that have the players posed exactly like the characters on the X-Men poster, minus the Adamantium claws, of course.
The promotion is timed for a big inter-league match-up between the reserve teams for the Hanshin Tigers and the Yomiuri Giants. The rivals will play at the Tigers' home stadium, Koshien. Despite this being between just the reserve players, it's the final showdown between two teams that have had a fierce battle since the season opened, with the Giants routing the Tigers in their home opener 12-4, and the Tigers retaliating two weeks later with a humiliating 9-0 victory.
The posters will be displayed near an underground shopping plaza near Osaka Station between May 19-25, as well as the main Hanshin train line from May 21-27.
Last year, the Tigers did another crossover promotion with a movie, featuring their mascot Truckee alongside Richard Parker from Ang Lee's Life of Pi.
[Via Animeanime]
---