Interest

White Day Turns the Tables for Mr. Osomatsu, Fate/Stay Night, Seraph of the End

posted on by Lynzee Loveridge
It's White Day in Japan, a day when men gift chocolates to women, to reciprocate thanks for the chocolates they received a month earlier on Valentine's Day. In the anime world, this means plenty of male characters are put into the limelight for celebratory images and tie-ins.
The Matsuno sextuplets held a campaign at FamilyMart where special clear files were given away to customers.

The vampires of Diabolik Lovers took over Animate Stores from March 12-14 where special cards were distributed.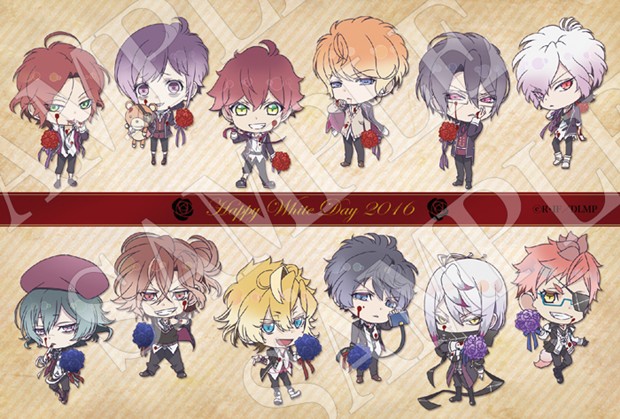 Animation studio ufotable tweeted an image of the men from Fate/stay night: Unlimited Blade Works. The art is featured on postcards and lottery goods, including full-size wall scrolls. The items are available for purchase until March 21.
弊社カフェ各店舗&新宿ダイニングにて、本日よりホワイトデーイベントスタート!更にWEBSHOPでもイベント限定グッズの取り扱いを本日15時より開始致します。お楽しみ下さい:)https://t.co/Hn7XDIRCjm pic.twitter.com/yveVhCT9cx

— ufotable (@ufotable) March 12, 2016
The [email protected] Million Live! game is holding a one-day White Day campaign. Funny enough, the announcement image doesn't feature any characters at all, what with it being a female character dominated game.
3月14日、1日限定のホワイトデーキャンペーン開催中!
アイドルのみんなにバレンタインのお返しをしましょう♪#imas_ml
公式 https://t.co/XCfjhoUj1o pic.twitter.com/0dPtokAw8m

— アイドルマスター ミリオンライブ!公式 (@imasml_official) March 13, 2016
The One Piece store set up displays with limited edition confections, bath salts, face masks, and a Tralfagar Law hoodie. Customers also received a limited edition postcard with purchase.


Seraph of the End shared an image of Mikaela. The character is the winner of the the Seraph of the End valentine poll.
ハッピーホワイトデー♪原作HPにてバレンタイン人気投票のアンサー企画を展開中!結果発表は勿論、山本ヤマト先生の描きおろしイラストを用いた特製壁紙配布も! https://t.co/7xdnkW7fvW #終わりのセラフ #セラフVT pic.twitter.com/sw8JSmYLVq

— 終わりのセラフ公式 (@owarino_seraph) March 13, 2016
Other White Day greetings are listed below.
---