Interest

Air Setting Takes Wing as Anime Pilgrimage Site

posted on by Jennifer Sherman

Japan's Anime Tourism Association opened the "Otozurete Mitai Nihon no Anime Seichi 150" (150 Sacred Anime Sites I Want to Visit) poll last July to let fans of anime in any country vote for the anime pilgrimage sites they most want to visit. Although the Anime Tourism Association announced the results of the poll on March 25, news of the Air anime setting's presence on the list began to spread online again on Thursday.
The setting for Air has never officially been announced. However, fans know Mihama, Wakayama as the town where the sad story takes place. Fans noticed that places such as the Enjugahama coastline and Misaki Shrine resemble locations in the anime.
Official or not, the town seems to be embracing its status as the supposed setting of Air. Mihama's mayor said, "I'm extremely grateful because I was thinking I wanted to enliven the town with Air somehow." He also said that the next step in promoting Mihama as a pilgrimage site will be focusing on gaining recognition on the Anime Tourism Association's "Anime Tourism 88-Stop Pilgrimage" list.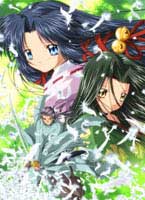 The Anime Tourism Association's data from its "Anime Sacred Site Poll" served as a base for the poll naming 150 pilgrimage sites. The poll accepted responses in six languages, including English and Chinese, and received more than 50,000 votes from people outside Japan. The poll's results did not list the number of votes received for each anime setting. The association's website is still accepting responses until the end of June, when the poll will close for the time being. The results will be used for the "Anime Tourism 88-Stop Pilgrimage" list, and the Anime Tourism Association plans to announce the results in July.
The publisher Kadokawa, tourism company JTB, and a total of five companies founded the Anime Tourism Association last September. The association's aim is to attract tourists, from Japan as well as foreign countries, and bolster regional revitalization projects throughout Japan.
Anime pilgrimage site initiatives have been gaining momentum in Japan for about the past five years. Various fan lists rank viewers' favorite sites, and the settings of many new anime are embracing the trend.
Source: The Sankei Shimbun via Yaraon!
---