Interest

Shinkai's 'your name.' Setting Earns 18.5 Billion Yen From Anime Pilgrimage

posted on by Jennifer Sherman

The setting of Makoto Shinkai's smash-hit film your name. (Kimi no Na wa.) is profiting from the anime's success. A Japanese television program recently reported that tourists have brought in 18.5 billion yen (about US$164 million) to the local economy around Hida, the northernmost city in Gifu Prefecture.
About 750,000 fans have already flocked to the area as one of the latest anime pilgrimage sites. Places such as Hida-Furukawa train station, the Hien Shrine, abandoned bus stops, and the local library appear in the film. Hida Library is playing a special part in the area's recent economic boost by selling "holy land" sake for 3,240 yen (about US$29) each. All 3,000 bottles of the sake have sold out, and more are being manufactured.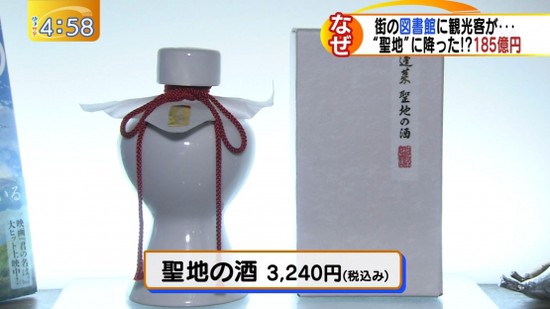 Sake is one of the main traditional products of the Hida area. A special type of sake also plays a key role in Shinkai's film.
Genki Kawamura, one of the film's producers, also appeared on the television program and teased that the next film after your name. might relate to the concept of "Don't you feel this type of thing?" He teased that a film and novel based on that idea was proposed.

Aside from Hida and the surrounding areas, anime fans are also traveling to other parts of the setting of Shinkai's latest film. Japan's H.I.S. travel agency offered walking tours of the anime's Tokyo locales earlier this month.
The film opened in Japan on August 26, and it still ranks #1 at the Japanese box office. It also recently topped box offices in Thailand and Hong Kong. Funimation is releasing the film in North America starting with an Oscar-qualifying theatrical run that will take place from December 2-8 at Los Angeles' Laemmle Music Hall. Great Britain's Anime Limited announced the English dub cast on November 14 and began streaming a trailer.
[Via Yaraon!]
---