Interest

Degu Makes Official Debut in New Kemono Friends Zoo Collaboration

posted on by Jennifer Sherman
Kemono Friends is collaborating with the Nagasaki Bio Park zoo and botanical garden this winter. The new Friend Common Degu (seen center in image below) is making her official debut as part of the project.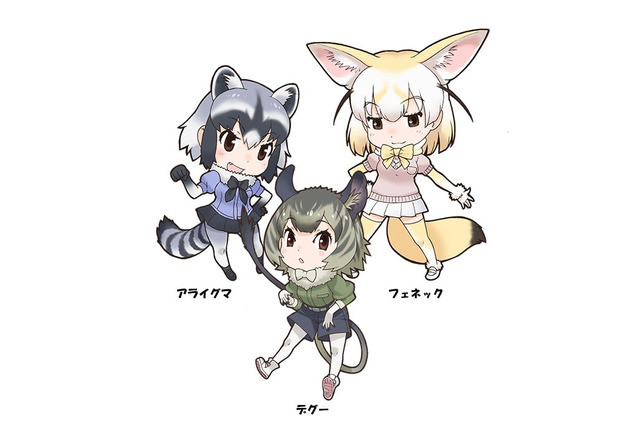 The franchise's conceptual designer Mine Yoshizaki first drew Common Degu in a special illustration with Fennec (seen right in image above). Fennec's voice actress Kana Motomiya owns a degu named Kisuke, and Yoshizaki created Common Degu as a tribute to Motomiya and her pet.
The main part of the collaboration will be a stamp rally with four locations in the Bio Park and one in Pet Animal World (PAW) area. People who complete the stamp rally will receive an original tin badge while supplies last. Motomiya and fellow voice actress Saki Ono (voice of Common Raccoon; seen left in image above) are also recording special announcements for use inside the park. The recordings will feature information about raccoons and capybaras, which are a popular attraction at the zoo.

In addition, 21 locations inside the Bio Park and four locations inside PAW will display Kemono Friends character panels. The park's shop will also sell collaboration goods such as three varieties of acrylic key holders, two kinds of stickers, and a clear file.
The collaboration will run from December 23 to February 28. The park anticipates that the Kemono Friends airing that debuted on the local television station Nagasaki Broadcasting this month will help attract visitors.
Nagasaki Bio Park opened in 1980 with a concept of encouraging visitors to learn about animals while interacting with them. Voice actors Akio Ohtsuka and Ayana Taketatsu voiced two of the zoo's popular capybaras, as well as tapirs, for promotional videos for bath and shower equipment earlier this year.
Kemono Friends has previously partnered with many zoos throughout Japan. The promotions have helped boost attendance at the participating facilities.
Source: Anime! Anime! (Katsunori Takahashi)
---