Interest

Nyanko Daisenso Mobile Game Asks 'What If Evangelion Was Just Cats'?

posted on by Lynzee Loveridge
Yoko Takahashi
replaces all words of "Cruel Angel's Thesis" with "Nyaa~" in The Battle Cats ads
---
Neon Genesis Evangelion walks an interesting line where the show itself is full of trauma and emotional depth but its collaboration campaigns have no problem transforming it over the top parody. Schick has shown a smiling Gendo after the notoriously stoic character shaves off his beard. An Evangelion-themed episode of Shinkalion turned Unit 01 into a transforming train. The strangest might belong to juice company Kagome who unleashed a giant tomato on Tokyo-3.
The newest collaboration is with popular mobile game Nyanko Daisensō (The Battle Cats). PONOS introduced the free-to-play strategy/tower assault game game in 2011. The collaboration adds Evangelion elements from July 18 to August 1 but Shinji, Rei, Asuka, and even Unit-01 are reimagined as cats. Two television commercials began airing on Wednesday and feature Yoko Takahashi's iconic theme song "Cruel Angel's Thesis" but all the lyrics are replaced with meowing.
The campaign is also spawning a series of crossover merchandise. The official store EVA CUSTOM, which allows you to customize goods yourself, will sell mugs and tote bags. EVANGELION STORE locations across Japan will sell notebooks, can badges, clear file sets, and T-shirt. Similar items can also be purchased at the "Nyankogelion Store", which will open for a limited time in Kyoto, Aichi, and Kanagawa prefectures and the limited Nyanko Great War goods store in Tokyo.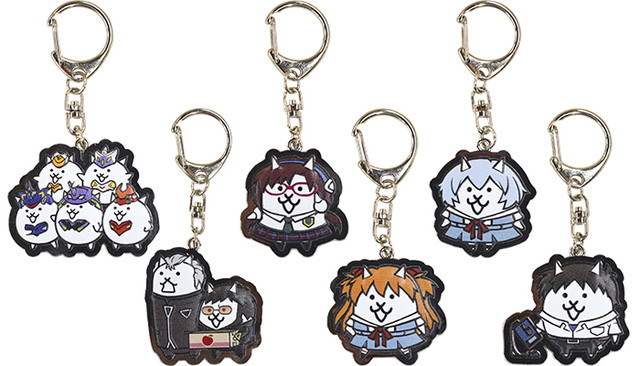 Source: Comic Natalie
---