×
remind me tomorrow
remind me next week
never remind me
Subscribe to the ANN Newsletter • Wake up every Sunday to a curated list of ANN's most interesting posts of the week.
read more
Interview: Satoshi Kon
by Justin Sevakis,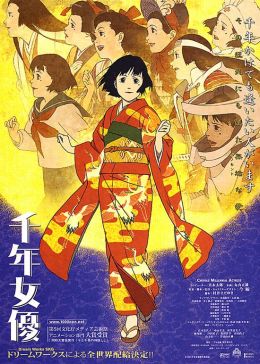 Satoshi Kon is a man who scarcely needs introduction; often compared to the best modern filmmakers, Kon has been stunning audiences for decades, beginning with his brilliant script for the Magnetic Rose segment in the classic anime anthology Memories, and most recently with the release of Paprika, a psychoanalytical wonderland of a film that received raves from critics and audiences alike. Anime News Network's Justin Sevakis had the privilege of sitting down with Mr. Kon in New York City earlier this year.

ANN: Thank you very much for joining us today. Welcome back to New York City.
Satoshi Kon: Thank you very much!
ANN: So let's start at the beginning of your career. You attended Musashino College of the Arts, and you originally wanted to be a painter. What originally got you interested in painting?
SK: Besides painting, there was also a time when I wanted to be an illustrator. As a result, I ended up becoming a manga artist, and now I'm working in animation. It was not that I felt I had to be an illustrator; as long as art and drawings were involved in my work, regardless of genre, I was satisfied. So generally, because I wanted to work with art professionally, I enrolled at Musashino College of the Arts.
ANN: So obviously illustration is something you have to do every day now, but beyond that, do you still have time to illustrate random things that have nothing to do with your projects?
SK: Since I've begun drawing art as a professional, I haven't had much time to do art privately. A lot of the pieces that are laid out here are my own personal works, but they're mainly illustrations done with the intent of synching them with developing a digital computer animated version of the image via computer. So it's not really something I do as a hobby anymore. If I draw something, it becomes work-related. In other words, I made my hobby my job, so now I don't have a hobby anymore!
ANN: After college you got to work on World Apartment Horror with Katsuhiro Ōtomo. So how did you two meet originally?
SK: As I got my start as a manga artist in Young Magazine, at the same time, Ōtomo's Akira manga was being serialized in the same magazine. I was also doing editing for the magazine, so I helped him with some of his work as well.
ANN: Your first actual anime influence was with Mr. Ōtomo on Roujin-Z, which was written by Ōtomo and directed by Kitakubo Hiroyuki. How influential was this early experience to you and what did you take away from it?
SK: Since Roujin-Z was the first anime that I was a part of, the networking that came with the experience - the staff I worked with for all that time and the relationships I had with the staff became very influential. Thanks to Mr. Ōtomo's help, I was able to begin working in the anime industry. Still, the relationships that I formed with the various staff have continued to be helpful and influential to me.
ANN: After that, you made your big screenwriting debut with Magnetic Rose, a section of the anthology film Memories. It's really quite an amazing science fiction work that is still pretty impressive today. Was writing something that you really wanted to do at that point, and what were the challenges you faced as a first-time screenwriter?
SK: Of course, the scenario for Magnetic Rose was the first time I wrote an anime script. Still, before that, I was a manga artist, so it wasn't as if it was the first time I had to create a story. From that standpoint, writing the story scenario wasn't really a challenge. However, the process of creating a story with just words - without drawings to carry things along - that was challenging.
ANN: Your directorial debut, Perfect Blue (which is now over 10 years old) was recently re-released on Blu Ray in Japan, and you got to comment extensively on the film and relive the experience. Were there any suprises looking back on Perfect Blue after all these years?
SK: The new release appeared this year. That was my first experience as a director, and I have to admit that as I watched it, I noticed many things here and there that weren't done quite right - I felt a little embarrassed actually. Still, although Perfect Blue was my first film and many things didn't look right, there are many elements from the film that connect to my later works. When I watch it again, I feel inspired to keep improving my current work as if my life depended on the outcome.
ANN: Perfect Blue had a sort of strange production history, going from OAV to feature film in the middle of production. At some point in the process, someone must have realized, "Hey, this is very different from most anime and is probably something that should get more support than most anime usually get." Could you tell us about when this realization began to set in among the staff?
SK: With the production Perfect Blue, the biggest surprise was that many of the staff working on the film didn't know what kind of film it was until it was finished. For me, I really didn't feel like I was doing anything different; I would think, "It's this kind of scene, so it has to be like this" or "this is necessary for this kind of film." Still, when the film was finished and we had the first staff screening, one of the main staff said to me, "I didn't realize it was this kind of film!" He was truly shocked. It was tough to establish any sort of value judgment concerning the film with the staff.
ANN: Let's move on to Millennium Actress. There's some rumors that the Go Fish division of DreamWorks, which doesn't exist anymore, wanted to recut it for American audiences so the story would be in chronological order. Did you get a request like that, and what would your reaction to a request like that be?
SK: No, there was never a request like that. Still, I didn't know anything about what the release [in the US] would look like. I knew that DreamWorks would be releasing it here, but after that, I was never told how they would release it and promote it. The DVD jacket illustration was changed by the DreamWorks management, and honestly, I think that it doesn't really match the story of the film. It sabotages the culture of the film, I think. To put it bluntly... "what the hell?"
ANN: Millennium Actress went to several different film festivals and won many awards. By this point, you are one of the most influential anime directors, and you're only two films into your career. Did this affect you either as a person or as a creator, and did it make it easier to get new products made?
SK: First off, I'm always very thrilled to win awards. It's not like I am creating animation because I want to win awards. To be specific, winning awards represents acclaim for the project, and for the staff who worked so hard on the films, it represents praise for them as well. Even if I stand in front of the staff and say, "This really did well in the United States!," putting the experience of seeing that reaction into words is difficult - so if I get a plaque or a trophy and bring that home, everyone gets excited. I'm happy to win awards, and getting a kind of public recognition - that makes the staff really happy.
ANN: About that; have you ever received any kind of feedback from a fan or someone in particular that made a particularly strong impression on you? Any sort of reaction that really moved you?
SK: Rather than having an impression, it's quite uplifting. I've received a lot of responses, messages, and notes with regard to my films. Having seen those messages, it feels like the fans are saying, "Your work is great as it is, keep going!" So rather than serving as an influence, the support reinforces the position from which we've been making films. So we feel like we can continue in the same way we have been.
ANN: Tokyo Godfathers was a big departure for you, more of a linear traditional story and your only project to date that doesn't deal with subjective reality. Was it a challenge to work with more traditional, restrictive storytelling?
SK: Perfect Blue and Millenium Actress are set where both dreams and reality are blended. If you make things the same way as you always have, things can get redundant. So I decided to work with a different kind of story. The feeling like I wanted to face the challenge posed by that kind of work was strong. When films are made and the divide between dreams and reality is blurred, the story can become overtly theatrical. With Tokyo Godfathers, we intentionally made the story simple and focused on exposing the background of the characters more.
ANN: Much has been said about Tokyo Godfathers in the way it portrays the homeless in Japan, and that's a topic that Japan as a country typically doesn't like to talk much about. Did you intend it as a societal statement in that sense?
SK: I knew that if I made the main characters homeless people, the question of whether there was a message for society (or not) behind the work. I realized that. However, the important thing wasn't to just present the homeless problem in the script, but to focus on the mindset surrounding things we "discard." These are people who have been "discarded" from society; the homeless, the runaway girl. In Japanese society, civil rights that the people have are few in number. I wanted to examine how someone separated from mainstream society would once again rejuvenate society.
ANN: So you've gone against the types of women that have been very popular in anime recently - "moe" type of girls. All of your characters are very strong and self-reliant women, but at the same time many of them are put in kind of dangerous situations that are very alarming for western audiences. How do you see women in your life, and how do they affect the women you draw?
SK: For me, creating female characters really isn't my strong suit. The image of women that appears in Japanese animation, on the whole, is something that should be approached as a pre-existing stereotype. Women like the ones in anime don't really exist in reality. I don't appeal to realism as if my life depended on it, but with visuals, characters and the story, there's a reality amongst all that. The characters that appear in that reality - anime fans, stories, male characters - it's not like I present those in a purely realistic way either. Women are women, and women characters also have their own intentions and personalities, so I set the story in a way that it lets those personalities come out.
ANN: Your newest project - we haven't heard much yet, but we've heard that it's something that children will be able to enjoy. Can you share anything more with us yet? Does it have a title, release date or anything?
SK: The title will be Yume-Miru Kikai. In English, it will be The Dream Machine. On the surface, it's going to be a fantasy-adventure targeted at younger audiences. However, it will also be a film that people who have seen our films up to this point will be able to enjoy. So it will be an adventure that even older audiences can appreciate. There will be no human characters in the film; only robots. It'll be like a "road movie" for robots.
Unfortunately, we ran out of time at this point; thanks to Mr. Kon for sitting down with us, and thanks to the Film Society of Lincoln Center for arranging the interview. Special thanks to
Evan Miller
for his translation.