×
remind me tomorrow
remind me next week
never remind me
Subscribe to the ANN Newsletter • Wake up every Sunday to a curated list of ANN's most interesting posts of the week.
read more
Interview: Kalafina
by Gia Manry,

Kalafina consists of three vocalists, all of whom go by their given names. Pictured right, they are (from left to right) Hikaru, Keiko, and Wakana.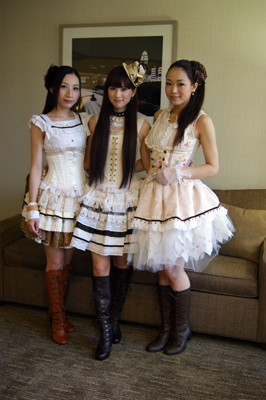 ANN: You guys are best known in the U.S. for your anime themes, in Kara no Kyōkai - the Garden of sinners, Black Butler, Puella Magi Madoka Magica...do you three watch anime yourselves?
Wakana: Of course, we like it.
Keiko: We all enjoy manga and anime, and we all have our favorites. I've seen all of the shows that our music has been in and I enjoy all of it.
ANN: What are each of your favorites?
Wakana: I really like Japan's Studio Ghibli...I like Kiki's Delivery Service, Nausicaä of the Valley of the Wind...I like them all.
Keiko: I actually thought Puella Magi Madoka Magica was really interesting. And I also like One Piece.
Hikaru: I like anime by the mangaka group CLAMP.
ANN: Are you looking forward to the upcoming Blood-C anime?
Hikaru: Yes, it sounds fun!
ANN: What are your hobbies outside of work?
Wakana: I like to cook.
Keiko: Working out!
Hikaru: I enjoy...sleeping.
ANN: What is it like working with Yuki Kajiura? Is she a strong presence in the studio, or does she take more of a background role while you're recording?
Wakana: Ms. Kajiura has a really big world view, and as Kalafina, we have to express that huge world view that she has in her mind. We learn a lot from her, and she's a lot like a teacher for us. But even more than that, she's the most important part of this group.
ANN: Hikaru, you beat some 30,000 other girls auditioning to be in Kalafina. What was that like?
Hikaru: I actually started the audition process later, when it had already been narrowed down a bit, so I didn't really feel the whole impact of being selected out of 30,000 people. But later on, as I worked with Keiko and Wakana, people started to tell me about it, and that's when I really realized it had happened and I felt amazed. But mostly I was so focused on performing that I didn't really think about that at the time.
ANN: Do you have any messages for your fans in the west?
Wakana: This is our second U.S. performance, and we've gotten all kinds of comments on our home page and blog from our U.S. fans. So we're really excited to be performing live! It's like a dream come true to be here in L.A. Through this event, more people will know about Kalafina and our music, and we really just want to perform and do the best we can. So please come out for the show!
---
discuss this in the forum (9 posts)
|