Interview: Stereopony
by Gia Manry,

Band Members:
Aimi - Lead Singer (center)
Nohana - Bassist (left)
Shiho - Drummer (right)

Anime News Network: You've done music for Bleach, Darker than Black, Gundam 00, Tegami Bachi, Yatterman... do you have a favorite among these?
Aimi: For the Yatterman movie, actually, we got to go to the screening and we saw little kids being very excited, so that was very good to see that!
ANN: What's your process for writing songs? Do you start with music, or lyrics?
Aimi: It depends, but for the most part we start with the music.
ANN: And what kinds of things do you base your lyrics on?
Aimi: We all write lyrics, but for me it's whatever I want to share with other people.
Shiho: For me it's more spontaneous. It could be from just sitting in a room or walking the streets or whatever I get from daily life.
Nohana: I write for our fans, the ones we see when performing live. So a lot of it is coming from an appreciation of them.
ANN: "Hitohira no Hanabira" (from Bleach) talks about loving somebody; when singing this song do you have a special someone you think about?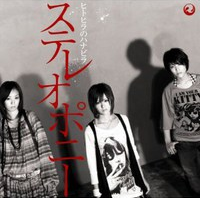 Aimi: Not all of our music is non-fiction... but I wrote it as our debut single so I wrote it so that everyone could relate and listen to it.
ANN: You also worked with singer Yui for your single "I do it." What was that like?
Aimi: Nervous!
Shiho: And excited.
ANN: Are there any other artists you'd like to work with someday?
Aimi: We do get a lot of energy when collaborating with other artists so we'd like to do that more in the future. Right now we're planning something, but we can't talk about the details yet.
ANN: Aimi, you're a fan of AC/DC. Would you like to work with them?
Aimi: (Laughing) I'll think about it!
ANN: In a past interview you said that American fans were more "direct" and energetic than Japanese fans. What did you mean by that? Are they just louder, do they dance more, etc?
Aimi: Even now, the people that interview us, it's a completely different vibe!
ANN: Really? What kinds of questions do you get from interviewers in Japan?
Aimi: The tone itself is much more serious and direct.
Shiho: And the hand gestures are amazing! I like how Americans show their feelings so strongly with hand gestures. That also applies to the audience, I think.
ANN: You also mentioned in that same interview that you're anime fans - what shows are you watching right now?

Aimi: I've been going back to Sailor Moon on YouTube.
ANN: What music types and musicians do you listen to in your free time?
Shiho: I think Pink is amazing. She has all those different aspects, like sexy, and cool. She has that "yeahhh!" attitude.
ANN: How about hobbies?
Shiho: I like to bake and make sweets.
Nohana: And I like to eat them!
ANN: Like, cakes, or candies?
Shiho: Anything really, cream puffs and cupcakes and cookies...
ANN: This isn't your first time to the United States. How do you like Boston so far?
Aimi: I think it's really cute! I keep imagining teddy bears walking around here! And there are very stylish buildings.
ANN: Last time you were here you got to see some of New York; how do you compare the two?
Aimi: If you compare New York to Tokyo, I'd say Boston is more like Kyoto...more chill, and very historical.
ANN: Do you have anything you'd like to say to your fans outside of Japan?
Aimi: Everyone knows that the situation in Japan is difficult right now, but we feel like we're getting a lot of support from people outside of Japan. Through our music, we want to give back to America for that support. We love America!
---
discuss this in the forum (6 posts)
|
this article has been modified since it was originally posted; see change history