News

Japanese Winny Anime File-Sharer Gets 1 Year in Prison

posted on

2008-04-18

11:42 EDT
Kyoto district court also adds 3-year suspended sentence for 39-year-old man
---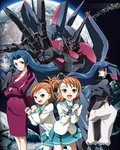 Japan's Kyoto District Court has sentenced 39-year-old Shōji Sakai to a one-year prison sentence and a three-year suspended sentence on Friday for distributing anime on the Winny file-sharing network. Judge Kōji Shibata said he considered the criminal liability of the defendant to be high since Sakai was distributing unauthorized videos on a daily basis. Judge Shibata explained his stiff sentence (the prosecution had asked for the one-year prison sentence) by saying that the crime was "terrible" since the copyright infringements "cannot be reversed."
Sakai and 35-year-old Katsuhisa Ikema were arrested and charged in January with uploading an episode of Idolmaster Xenoglossia (pictured above) in September and an episode of Mobile Suit Gundam 00 (picture below) in October. More charges were added in February for the alleged uploading of about 5,700 episodes from about 230 titles, including Kimikiss pure rouge, from the fall of 2003 until this past January.

The Winny peer-to-peer file-sharing software was developed in 2002 by a then anonymous computer engineering student. The software promised anonymity for its users, but the High-Tech Crime Task Force found flaws in its integrated forum feature. After two users were arrested for sharing copyrighted material using Winny in 2003, the developer was identified as Isamu Kaneko of the University of Tokyo and also arrested. He was convicted and sentenced with a 1.5-million-yen (about US$12,000) fine. During Kaneko's arrest and trial, another anonymous developer created a successor application called Share that uses Winny's file-sharing network. Since security researchers have also found flaws in Share in 2006, other successor applications are being developed.
Japan's Copyright Law prohibits unauthorized uploaders but expressly allows people to download for private use. The Japanese government is pushing for a ban on unauthorized downloads as well, despite receiving thousands of messages from citizens opposing the ban.
Source: Kyoto Shimbun
---