×
remind me tomorrow
remind me next week
never remind me
Subscribe to the ANN Newsletter • Wake up every Sunday to a curated list of ANN's most interesting posts of the week.
read more
News

Manga Fan Asō Tarō Again in Running for Japan's Top Post

posted on by Christopher Macdonald
Former foreign minister known for Int'l Manga Award, controversial comments
---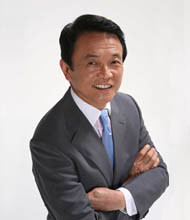 For the second time in less than a year, a Japanese prime minister has announced his resignation. Reminiscent of last September's resignation of Prime Minister Shinzō Abe, today's resignation of Prime Minister Yasuo Fukuda is a surprise move. The 72-year-old Fukuda, who took over from Abe last year, announced his resignation in a press conference at his residence on September 1. Fukuda's 11-month leadership of the country could be the shortest since 1994. Abe held the post of prime minister for exactly 12 months to the day. The exact date that Fukuda will terminate his leadership has yet to be announced; he has stated that first the Liberal Democratic Party (LDP) must select a new leader. Despite the English name of the party, the LDP is the main conservative party in Japan.
One front-runner for that position is Japanese Secretary General Tarō Asō. 68-year-old Asō campaigned against Abe and Fukuda to become leader of the LDP and thereby prime minister in 2006 and 2007. As part of his campaign to become Prime Minister last year, Asō, a self-acknowledged manga-fan, he held campaign rallies in the Akihabara otaku cultural shopping district in 2006 and 2007.
The more conservative of the two, Asō lost the leadership race to Fukuda. Asō, who had stepped down from the position of secretary general, only recently returned to that position in a cabinet reorganization that Fukuda undertook last month. The reorganization was seen as an attempt to improve the LDP's approval ratings, which hover around 30%. The party's popularity has been lagging ever since a number of scandals hit previous Prime Minister Abe's cabinet in 2006 and 2007. These scandals caused Abe to lose control of the House of Councilors, the upper house of the Japanese Diet, and ultimately resign.
Asō is known for his history of controversial comments. Just this month, he responded to a comment about LDP's shifting fortunes by upper house speaker Satsuki Eda of the opposition Democratic Party (DP) by saying, ""If you look at history, you will see that as a result of the people moving away from the party of government, regimes like the Nazis have come into power." DP Secretary General Yukio Hatoyama demanded an appology which Asō has not given. Asō did say, "I don't want to think that the speaker disclosed [my comment] on purpose, and I don't have any intention of comparing the Democrats to the Nazis." An anonymous Asō staffer added, "He was saying that the fact that debate has not been progressing in parliament is a serious problem and that the Nazi regime arose from a similar situation."
In 2001, then Economics Minister Asō said he wanted to make Japan a place where "rich Jews" would want to live. While he served as foreign minister in 2006 and 2007, he also implied that Japan's 20th-century colonization of Korea and Taiwan was good for both countries. He has claimed last year that allegations that Japan held sex slaves from Korea and China during World War II "lacked objective evidence." Also last year, he said that Americans could not solve the Middle East crisis because they have blond hair and blue eyes and added, "Japanese are trusted. Luckily we have yellow faces."
In addition to openly talking about his manga-reading habit ("about 10 to 20 [manga magazines] a week"), Asō announced the first International Manga Awards last year as Abe's former foreign minister. His former vice foreign minister, Katsuhito Asano, met with the finalists of the International Cosplay Summit last year. Also last year, Asō posted a Japanese essay about how manga has spread internationally and how the term "manga" has entered the vocabularies of other languages, similar to how "sushi," "tsunami," and "karaoke" have.
When Asō was foreign minister, his ministry increasingly used manga to communicate its message, particularly through specially commissioned Detective Conan manga pamphlets and complimentary copies of the Barefoot Gen manga at a nuclear non-proliferation meeting. He also called upon former French presidential candidate Segolene Royal to "read a little bit more" manga after Royal criticized manga for a perceived high degree of tolerance for expressions of violence and pornography.
Although Japanese stocks fell in general upon the resignation of Abe in 2007, Asō's possible candidature to replace him gave anime and manga company stocks a boost, with companies like Mandarake, Broccoli, GDH and others seeing increased stock prices. The effects of today's news will not be seen until Tuesday as the announcement was made after the closing of the stock market.
Whoever he or she is, Japan's new prime minister will face general elections no later than September 2009 when the LDP's current four-year mandate expires.
Sources: BBC, Reuters, The Independent
Update: Expanded article with additional coverage.
---