News

Basquash! Promo Movie, VOTOMS Trailer Streamed (Update 2)

posted on by Egan Loo
---

The official website for the upcoming Basquash! anime series has revamped itself with a 100-second streaming promotional movie on Tuesday. Shoji Kawamori (Macross, Escaflowne, Aquarion) and Thomas Romain (Oban Star-Racers) are collaborating on this project that combines robots with basketball. The story takes place on the planet Earthdash, where its inhabitants gaze on its moon and the technologically advanced lunar city of Mooneyes with awe. Dan JD, a boy living in Rollingtown on Earthdash's surface, gets caught up in Bigfoot Basketball — a fast-paced sport played with giant Bigfoot robots. Kawamori is developing this project as a deliberately lighthearted counterbalance to the more serious work he has done. Romain developed the conceptual designs for the mecha and the art direction. Satelight is animating the series for broadcast in Japan in 2009.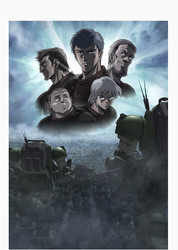 The official website for the Armored Trooper Votoms: Pailsen Files anime project has begun streaming the 94-second trailer for the anime's theatrical film version in small and large sizes. The trailer features the "Honō no Sadame" theme song by Tetsu. Ryousuke Takahashi and Sunrise's movie will compile their six-volume 2007-2008 Pailsen Files video series. Pailsen Files itself is a spinoff from the original 1983-1984 Votoms television series, which was one of the first anime to depict robot combat with (relative) realism. The Armored Trooper Votoms: Pailsen Files film opens in Japan on January 17.
Source: Moon Phase
Images © Shoji Kawamori, Thomas Romain/Satelight/Basquash! Production Committee, MBS
© Sunrise
Update: "100-second" trailer description corrected. Thanks, Emerje.
Update: The French anime information website Catsuka has additional details on the project. Thanks, Tsuka and ChibiGoku.
---