News

Sunrise's Sora Kake Girl Anime Gets 2 Manga Spinoffs (Updated)

posted on by Egan Loo
---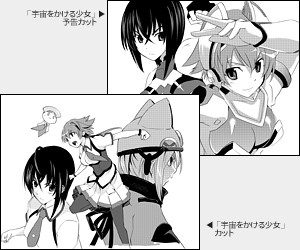 The official website for Sunrise's Sora Kake Girl (Sora o Kakeru Shōjo) anime series has announced on Tuesday that the anime is spawning two manga adaptations in two different magazines. Writer Kunihiko Okada and artist Kabocha already launched their Sora Kake Girl R (Sora o Kakeru Shōjo R) spinoff story in the March issue of Ichijinsha's Monthly Comic Rex magazine on Monday. A comic preview ran in the previous issue on January 9. (The top right image is from the preview, while the bottom left image is from the main manga.)
Okada notes on Sunrise's website that the second manga spinoff, Sora Kake Girl D (Sora o Kakeru Shōjo D), will begin in the April issue of ASCII Media Works' Monthly Comic Dengeki Daioh magazine. The April issue will ship on February 27.
The original anime premiered on Japanese television on January 5. The story is set in the year 311 of the Orbital Calendar, when humanity has migrated to countless colony clusters in space. A space colony girl named Akiha Shishidō encounters a malevolent artificial intelligence named Leopard that has been installed on a colony. Akiha is joined by an Inter-Colony Police officer named Itsuki Kannagi, a taciturn young girl named Honoka Kawai, and a robot named Imoko "Imo-chan" Shishidō. The project's title is an apparent wordplay on Toki o Kakeru Shōjo or The Girl Who Leapt Through Time, Yasutaka Tsutsui's classic novel that was adapted into several live-action television series, live-action films, manga, and an acclaimed anime film.
Source: Muhyojo
Image © Sunrise/Bandai Visual
Update: Comic Dengeki Daioh's spelling corrected. Thanks, AkashicLibrarian.
---