News

Juné Manga, 801 Media Lists New Boys-Love Manga, Dates

posted on by Egan Loo
---
Juné Manga and 801 Media, two of the boys-love imprints of North America's Digital Manga Publishing,
list
the following titles in their online release schedule for this coming winter. Some of these titles were previously announced, but were then
delayed
until the end of this year or the beginning of next year.

9th Sleep
Makoto Tateno (Futabasha's Action Comic Boys Love, formerly Biblos)
Juné Manga
December 16, 2009
Publisher's description: "The planet had died once before… On the day of Despaira, a god appeared in the sky and saved the world. His name was King Shishioh. But now with the throne of the king empty, a vicious battle between two brothers is unfolding. Who will ascend the throne?"

Physical Attraction (Nikutai Kankei)
Tatsumi Kaiya (Houbunsha's Hanaoto Comics)
Juné Manga
January 13, 2010
Publisher's description: "I first met the cool and handsome Narusawa in college. Interested, I approached and said to him half-jokingly, 'Let me do you next time.' ...that very same day, he was the one who ended up doing me! Then, just when I thought I'd talked myself into believing ours was a purely physical relationship, I came to a sudden realization-I was in love with Narusawa! But I'm always the one calling to see him, and never the other way around. The booty-call has been our only connection-so how can I tell him, 'I love you,' now...?! -Kurata"

Maniac Shorts Shot
Miya Ousaka (Futabasha's Action Comic Boys Love)
801 Media
January 13, 2010
Publisher's description: "Design school students Issei (interior design) and Jin (photography), on their way home from a live concert, pick up a discarded cardboard box, only to find that it contains a pair of sexy underwear with a "special" attachment...!! Deciding to have some fun, Issei puts them on and poses for Jin, but when Jin finds when he aims his camera at Issei, his sexual desire goes through the roof!! What will happen when Jin finds he can't hold back anymore and has to have Issei right then and there?!I Includes a bonus back-up story and all of the previously unpublished stories in one handy volume!"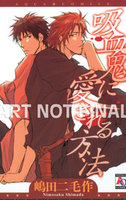 How to Seduce a Vampire (Kyuketsuki ni Aisareru Houhou)
Nimosaku Shimada (
Oakla Publishing's
Aqua Comics)
Juné Manga
January 27, 2010
Publisher's description: "Watanabe gathered up Mizuo's battered and bloodstained body, was forced to cooperate with the ensuing blood transfusion, and for his trouble was late for his part-time job, resulting in his termination. The mysterious Mizuo tells the now-unemployed Watanabe that he is a vampire, and offers Watanabe a position at his salon. Despite his feeling that Mizuo is a potentially dangerous partner, for some reason Watanabe cannot bear to be away from him... Includes a bonus back-up story!"

Dry Heat (Warera no Mizu wa Doko ni Aru)
Yugi Yamada (Houbunsha's Hanaoto Comics)
Juné Manga
February 24, 2010
Publisher's description: "Little Tatsuhiko, says to Itaru "when I grow up, I want to become a politician and change the law - so two men can get married. Will you marry me then?" Ten years later, his family members are notified that Tatsuhiko left a note behind and disappeared from his prestigious academy. His family servant is asked to find him, only to discover that time changes people and learns that things aren't the way it used to be… What did he discover?"
Source:
Kuriousity
---