×
remind me tomorrow
remind me next week
never remind me
Subscribe to the ANN Newsletter • Wake up every Sunday to a curated list of ANN's most interesting posts of the week.
read more
News

Vertical Adds Peepo Choo, Twin Spica, Needle, Chi's Sweet Home (Update 2)

posted on by Egan Loo
---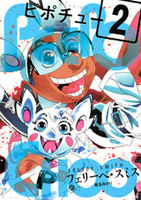 The North American manga publisher Vertical has announced at its New York Anime Festival panel on Friday that it has licensed Felipe Smith's Peepo Choo manga, Kou Yaginuma's Twin Spica (Futatsu no Spica) science-fiction manga, and Nobuaki Tadano's Needle (70 Oku no Hari or "7 Billion Needles") science-fiction manga. Vertical also confirmed that it has Kanata Konami's Chi's Sweet Home manga about a kitten's slice-of-life adventures.
Felipe Smith is one of the rare foreigners who is creating manga in Japan for Japanese readers. His Peepo Choo story follows Milton, a hardcore otaku from downtown Chicago who is infatuated with Japan due to His Favorite manga. One day, Milton wins a trip to Japan. However, the prize is actually a staged mission for an assassin named Gil to kill a young yakuza member named Morimoto.
Peepo Choo is the first serialized manga that is created by an American in Kodansha's Morning 2 magazine. Smith has been living in Japan to work on the monthly title, which he launched in June of last year. Smith broke into the manga scene in 2004, when his short story Manga was published in Tokyopop's Rising Stars of Manga, Volume 3 anthology. Tokyopop then signed him to a three-book contract, the result of which was the semi-autobiographical MBQ.

Twin Spica's near-future coming-of-age story follows a girl named Asumi who is going to a Space Academy. With a little push from her rocket design engineer father, Asumi studies to be an astronaut. Asumi's choice is influenced by a family tragedy and a figure from the past.
Yaginuma just ended his Twin Spica (Futatsu no Spica) science-fiction manga in the September issue of Media Factory's Monthly Comic Flapper magazine last month. The manga had been running since 2001, and the 16th and final compiled book volume will ship in Japan on October 23. The story inspired a 2003-2004 NHK television anime series from Tomomi Mochizuki (Here Is Greenwood, Ocean Waves, Ranma ½) and Group TAC. The final episode of a live-action television drama version with lead actress Nanami Sakuraba (Summer Wars) just aired last month.

The Needle manga is partially based on Hal Clement's American science fiction novel of the same name (translated as 20 Oku no Hari or "2 Billion Needles" in Japanese). Hikaru spends most of her teenaged life avoiding other people by putting on her headphones full-blast. As it turns out, there is a unidentified plasma lifeform named Tengai co-existing in Hikaru's body. Tengai has been chasing Maelstrom, another lifeform who is hiding among the 7 billion people on Earth before he massacres them. Like Twin Spica, this manga has been running in Monthly Comic Flapper magazine since April of last year.

Chi's Sweet Home centers around a kitten who gets lost after walking out into the real world for the first time. A boy named Yōhei Yamada discovers her, but the Yamada family's apartment building prohibits pets. After failing to find a new home, the Yamadas decide to defy the rules and raise Chi themselves. Most of Chi's coming-of-age stories revolve around the Yamadas or the cats, dogs, and the occasional rabbit that live in the neighborhood.
The manga has been running in Kodansha's Morning magazine since 2004, and the sixth compiled book volume shipped in Japan in April. A television anime adaptation premiered in March of 2008, and the second anime series debuted this past April. The Crunchyroll website has been streaming the second television anime series.
Update: More background and story information added.
Update 2: Clement's Needle novel title ("2 Billion Needles") in Japanese is different from Tadano's manga title ("7 Billion Needles") since he wrote it in 1950. Back then, there were only 2.5 billion people on the planet.
---