News

3rd Bakugan Season, Gundalian Invaders, Set for 2010

posted on
Bakugan
's massively multi-player online game also green-lit for next year
---

The Canadian production company Corus Entertainment revealed during its Investor Day event on September 29 that the third season of the Bakugan anime series, Bakugan Gundalian Invaders, is set for next year. Corus also noted that the Bakugan massively multi-player online game has been green-lit for next year as well. The first two anime seasons recount the adventures of Daniel (Danma "Dan" Kūsō in Japanese) and his friends as they help free Vestroia, the alternate world of the Bakugan warrior Dragonoid (Drago for short). Sega Toys President Isao Kokubun had already said this past spring that his company was aiming to produce a third season of the popular Bakugan Battle Brawlers anime series. The third season will tie into the global online game project that Activision Blizzard will release for the Nintendo DS and Wii, Sony PlayStation, and Microsoft Xbox platforms.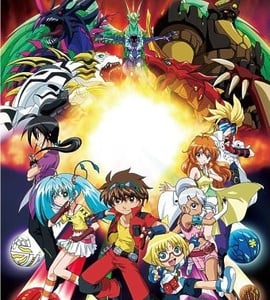 The whole Bakugan franchise is based on Spin Master and Sega Toys' combination of metal cards and marble-like magnetic toys that automatically transform into figures during gameplay. The franchise has been a bestseller in North America, and it won four awards at the 9th Annual Toy of the Year (TOY) Awards this year, including Toy of the Year and Property of the Year. The Cartoon Network began running the anime version in the United States in February of 2008. A second Bakugan: New Vestroia season of 26 episodes was announced last September, and premiered in North America this past spring. The Hollywood Reporter newspaper revealed in December that Universal Pictures and Stuber Productions signed a deal with Spin Master for a proposed theatrical film version.
Thank you to John And for the news tip.
Images © Sega Toys/Spin Master/Bakugan Project
---