News

Pride, Cherry Nights Manga Adapted into Live-Action

posted on by Jacob Browning
Pride
stage play to open in December; Cherry Nights TV show to debut in October
---

Yukari Ichijo's Pride manga is once again inspiring a live-action adaptation — this time, Toho is producing a stage play with Rena Sasamoto and Seiko Niizuma in the lead roles for a December 1-19 run at Tokyo's Theatre Creation. The story follows two budding opera singers who go from rivals to "best partners." Yoshihide Sasaki and Kazuma Suzuki co-star as a pianist and a record company magnate. The manga ran in Shueisha's Chorus magazine from 2002 to 2010, and Shueisha has published over 3 million copies of the manga's 12 compiled volumes.
The manga already inspired a live-action film with Death Note director Shusuke Kaneko. Stephanie, the half-Japanese, half-Armenian-American pop singer who sang "Friends" for Mobile Suit Gundam 00, and Hikari Mitsushima starred as the opera singers.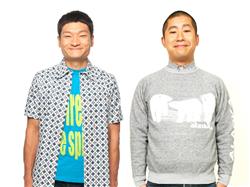 Dragon Odawara's comedy manga Cherry Nights will be adapted into a live-action television series which will premiere in Japan on October 10 at 2:00 a.m. The series will star 35-year-old Ayumu Katō of the comedy duo Zabungle, and 24-year-old Yū Sawabe of the comedy duo Haraichi. The manga started in 2005 and focuses on two male virgins living together in an apartment. Katō will play Kaoru Etō, a 30-year-old who claims to be successful with women. Sawabe will play Hajime Tamura, the 18-year-old roommate who idolizes Etō.
Sources: Engeki News, Sankei Sports
---