×
remind me tomorrow
remind me next week
never remind me
Subscribe to the ANN Newsletter • Wake up every Sunday to a curated list of ANN's most interesting posts of the week.
read more
News

New Anti-Piracy Bill Proposed in U.S. Senate

posted on by Gia Manry
Bill targets "sites dedicated to infringing activities"
---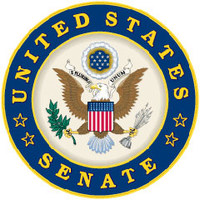 Democratic Senator Patrick Leahy of Vermont introduced the "Combating Online Infringement and Counterfeits Act" in the United States Senate on Monday. 13 other senators — Orrin Hatch (Republican-Utah), Evan Bayh (D-Indiana), Benjamin Cardin (D-Maryland), Thomas Coburn (R-Oklahoma), Richard Durbin (D-Illinois), Dianne Feinstein (D-California), Lindsey Graham (R-South Carolina), Amy Klobuchar (D-Minnesota), Herbert Kohl (D-Wisconsin), Charles Schumer (D-New York), Arlen Specter (D-Pennsylvania), George Voinovich (R-Ohio), and Sheldon Whitehouse (D-Rhode Island) — co-sponsored the bill.
The bill would allow the Attorney General to pursue restraining orders, preliminary injunctions, and injunctions against websites that have "no demonstrable, commercially significant purpose or use other than" copyright-infringing activities. The bill would also allow these actions to be pursued against such websites in rem — meaning that the website itself can be treated as the defendant rather than its owner. This would also allow the government to pursue sites whose owners may not be within the United States' jurisdiction, if the site knowingly provides infringing content within the United States.
In Leahy's introduction (PDF), the senator cited an American Federation of Labor and Congress of Industrial Organizations (AFL-CIO) report, which estimated that piracy costs the United States over 200,000 jobs within the movie and music industries. (The AFL-CIO derived its figure from "The True Cost of Sound Recording Piracy to the U.S. Economy" report published by the Institute for Policy Innovation, a think tank founded by former U.S. Representative Dick Armey.) He also said that the new bill would "provide the Justice Department with an important tool to crack down on Web sites dedicated to online infringement."
The bill has been referred to the Senate Judiciary Committee, of which Leahy is chairperson. A full text of the bill is available courtesy of the independent GovTrack.us website.
In 2008, the Judiciary Committee approved the Prioritizing Resources and Organization of Intellectual Property Act of 2008, another bill introduced by Leahy. The bill directed the President to establish an Intellectual Property Enforcement Coordinator and allowed the Justice Department to bring civil suits against infringers on behalf of content owners. Then President George W. Bush signed the bill into law in October 2008.
This past May, the FBI shut down a comic book scan site, and the Justice Department later filed a federal suit against the site's owner for copyright infringement.
Source: ICv2
Update: The non-profit organization Electronic Frontier Foundation provided its analysis of the bill on Tuesday. Thanks, Takeyo.
---