News

Nana Mizuki Puts 2 Singles in Top 3 Simultaneously (Updated)

posted on by Egan Loo
1st voice actress/actor & 4th female solo artist to accomplish feat under own name
---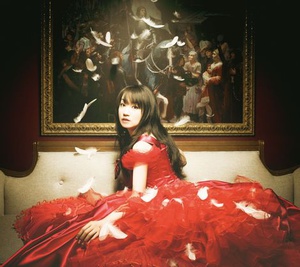 The voice actress/singer Nana Mizuki sold 55,000 and 52,000 copies of her "Scarlet Knight" and "Pop Master" singles, respectively, to rank them #2 and #3 on Oricon's CD singles chart for the April 11-17 week in Japan. Thus, she became the first voice actress or actor (seiyū) to put two singles in the weekly top 3 simultaneously under her real name, as opposed to a fictional character's name. (The K-ON!! television anime series put two singles at #2 and #3 last August, but under the name of the fictional five-girl band Ho-kago Tea Time.) "Scarlet Knight" (pictured at right) and "Pop Master" (pictured below) both officially went on sale on April 13 for 777 yen each, since "7" is pronounced the same way as Mizuki's given name in Japanese.
It has been 11 years and eight months since any female solo artist had two simultaneous CD singles in the top 3; Ayumi Hamasaki accomplished that feat with "A (monochrome, too late, Trauma, End roll" (#1) and "Boys & Girls" (#3) in August of 1999. The only other female solo artists with the same distinction are Keiko Fuji ("Onna no Blues" and "Keiko no Yume wa Yoru Hiraku" in 1970) and Seiko Matsuda ("Hitomi wa Diamond"/"Aoi Photograph" and "Glass no Ringo"/"Sweet Memories" in 1983).

Last year, Mizuki became the first voice actress or actor with a #1 CD single on Oricon's weekly singles chart with "Phantom Minds." It has been one year and two months since Mizuki's last new single, "Silent Bible."
In addition to writing the lyrics for both "Scarlet Knight" and "Pop Master," Mizuki composed the score for "Pop Master." "Scarlet Knight" serves as the opening theme song for the current television anime series Dog Days, while "Unbreakable," the second song on the "Pop Master" single, is the opening theme song for the UnchainBlades Rexx game for the Nintendo 3DS and Sony PSP systems.
Source: Oricon
Update: More background information added.
Update 2: Oricon reported the precise number of sales that it tallied for the two singles: 55,366 and 51,883, respectively.
Update 3: Ho-kago Tea Time's typo corrected. Thanks, superunature.
---