News

The Disappearance of Haruhi Suzumiya DVD Released Monday

posted on by Andrew Osmond
---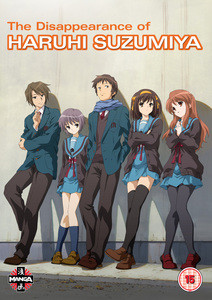 Manga Entertainment has released the feature film The Disappearance of Haruhi Suzumiya on DVD (RRP £19.99), bringing back the characters from The Melancholy of Haruhi Suzumiya TV series. The Blu-ray edition will be released on February 20.
The 163-minute film is based on the fourth Haruhi light novel by Nagaru Tanigawa and Noizi Ito. In the story, it is mid-December, and SOS Brigade chief Haruhi Suzumiya announces that the Brigade is going to hold a Christmas party in their clubroom. The brigade members Kyon, Yuki Nagato, Mikuru Asahina and Itsuki Koizumi start preparing for the party, but a couple of days later, Kyon arrives at school to find that Haruhi is missing. Not only that, but Mikuru claims she has never known Kyon before, Koizumi is also missing, and Yuki has become the sole member of the literature club...
The DVD extras include: Location Hunting "Kounan Hospital"; Stage Greetings at Tokyo; and featurettes on the BGM recording at Victor Studio in Australia and also on the cutting, dubbing and video editing.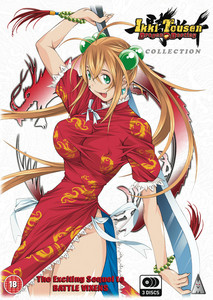 Meanwhile, MVM is releasing a three-disc collected edition of Ikki Tousen: Dragon Destiny (RRP £29.99). This fanservice-heavy sequel to Ikki Tousen (aka Battle Vixens) is loosely based on the novel, "Romance of the Three Kingdoms", with a present-day power-struggle between rival schools. As reported in August, one of the series' mini-episodes was censored by the BBFC for sexual imagery; the DVD is rated 18.

Other new releases include a sub-only DVD of the three-part OVA Ice (RRP £15.99) from the video label Cine du Monde. ICE is directed by Makoto Kobayashi, who is also known for his mechanical designs on such titles as Giant Robo, Last Exile, and the upcoming sequel Last Exile: Fam, the Silver Wing. The story takes place in the near future when all male humans in the world have died off and only 20,000 females remain living in the Tokyo ward of Shinjuku. While some of the survivors decide to accept humanity's death sentence, others fight over a mysterious substance called ICE that may be humanity's salvation. PPM animated the project.
Also released is the seventh box-set of Naruto Shippuden (RRP £24.99), carrying episodes 78 to 92 on two discs, released by Manga Entertainment.
---