News

Persona 4 The Animation Release Hopefully Begins in 2012, says Kaze.

posted on by Andrew Osmond
Format not specified for mystery game adaptation.
---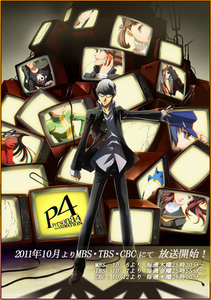 Kaze UK has tweeted that the U.K. release of Persona 4 The Animation will "hopefully" begin later in 2012 (without specifying whether the release would be on DVD or Blu-ray). Kaze added that it was "just checking dub schedule first."
Director Seiji Kishi (Angel Beats!, My Bride is a Mermaid) and the anime studio AIC ASTA adapted the Persona 4 PlayStation 2 role-playing game from Atlus. The story begins in the rural country town of Inaba, where mysterious murders and kidnappings sweep the countryside. A group of teenagers try to solve the mystery, which is connected to the local weather patterns and a strange video game world which the teenagers and the killer can all enter. A cinema film compilation of the series opened in Japanese cinema in June 2012, entitled Persona 4 The Animation -The Factor of Hope. The original series has been streamed on the Anime on Demand website.
Persona concept designer Kazuma Kaneko, original character designer Shigenori Soejima, and musical composer Shoji Meguro reprised their respective roles from the game for the anime. Cast members Daisuke Namikawa (Yu Narukami), Showtaro Morikubo (Yōsuke Hanamura), Yui Horie (Chie Satonaka), and Ami Koshimizu (Yukiko Amagi), Tomokazu Seki (Kanji Tatsumi), Kappei Yamaguchi (Kuma), Unshou Ishizuka (Ryōtarō Dōjima), Akemi Kanda (Nanako Dōjima), Mitsuaki Madono (Tōru Adachi), and Romi Park (Naoto Shirogane) are all returning from the game to play their respective characters.
Image © Index Corporation/P4A Committee
Via MyM magazine's twitter feed.
---