News

Massachusetts Removes Light-Gun Games From Rest Stops

posted on

2013-01-11

23:46 EST by Lynzee Loveridge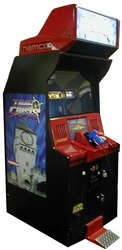 The Massachusetts Department of Transportation ordered the removal of light-gun arcade games from its state-operated rest stops. Time Crisis, Beach Head 2000, and six other titles were removed from rest areas along the Massachusetts Turnpike.
Before the removal, parents of a 12-year-old boy expressed concerns that the games were inappropriate. "We were struck by walking into a [state-owned] rest stop within an hour's drive of Newtown and seeing and hearing a life-sized, mounted machine gun on a video game," said Andrew Hyams, the boy's father.
The state's secretary of transportation Richard Davey commented on the issue: "Bottom line is I think there isn't a person who doesn't ­believe that there isn't too much violence in our society, and games can glorify that. A video game in a public space could be used by anybody of any age."
A community coalition in Southington, Connecticut also planned to collect and destroy violent video games and discs in exchange for gift certificates but has since dropped the campaign. Southington is located about 30 miles (about 50 kilometers) from Sandy Hook Elementary School, the site of a December shooting that killed 20 children and seven adults, including the shooter.
Source: Boston Globe via Kotaku
---
discuss this in the forum (31 posts)
|
bookmark/share with:
this article has been modified since it was originally posted; see change history
RightStuf - Anime, Manga and More