News

Moto Hagio Draws 2-Part Sci-Fi Manga of Sakyo Komatsu Story

posted on by Joanne Mertz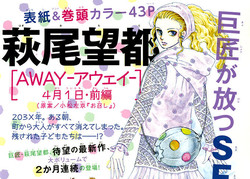 Manga creator Moto Hagio will debut her two-chapter manga "Away" in the June issue of Shogakukan's Monthly Flowers magazine on April 27. The manga adapts the short story "Omeshi" by the late science fiction writer Sakyo Komatsu. The story begins when "all of the adults disappear one morning in the year 203X. What about the children left behind…?!" The first chapter, "April 1 Part I," will be 43 pages long with a color page insert. Hagio is also illustrating the cover of the June issue.
Hagio's most recent series was Ōhi Marugo (La Reine Margot), which launched in the September issue of Shueisha's Monthly You magazine last year. A number of titles by Hagio have been released in English, such as the Fantagraphics editions of Heart of Thomas (Thomas no Shinzō) and A Drunken Dream and Other Stories. In 2012, the Japanese government awarded Hagio the Medal With Purple Ribbon, which honors academic and artistic achievement.
[Via Manga News]
---