News

Japanese Box Office, April 20-21

posted on by Crystalyn Hodgkins
---

Meitantei Conan: Zekkai no Private Eye (Detective Conan: Private Eye in the Distant Sea), the 17th Detective Conan (Case Closed) film, debuted at #1. The movie is set on a state-of-the art Aegis vessel with the full cooperation of Japan's real-life Ministry of Defense and Maritime Self-Defense Force. The corpse of a Self-Defense Force member has been found — minus the left arm — and a spy has infiltrated the Aegis vessel. The heroine Ran is put in jeopardy, and Conan is forced to stand up against the dangerous Spy "X." Kobun Shizuno is returning from the last few Detective Conan films to direct the latest one at TMS and V1 Studio. The television anime's cast members are reprising their respective roles. The film earned 716,568,268 yen (US$7,295,381) on 344 screens.

This year's Crayon Shin-chan film, Eiga Crayon Shin-chan: Bakauma—! B-Kyū Gourmet Survival!!, debuted at #2. In the story, B-grade cuisine is in danger of being wiped out without a special sauce, and it is up to the mischievous kindergartener Shin-chan to ferry the sauce to safety. Masakazu Hashimoto (Professor Layton and the Eternal Diva, Tari Tari) is directing his first Crayon Shin-chan movie after storyboarding 2008's Crayon Shin-chan: Chō Arashi o Yobu Kinpoko no Yūsha and 2011's Crayon Shin-chan: Arashi o Yobu Ōgon no Spy Daisakusen. Yoshio Urasawa (Bobobo-bo Bo-bobo, Fushigi Yugi) and Kimiko Ueno (Kuromajyo-san ga Tōru!!) wrote the screenplay. The film earned 240,486,633 yen (US$2,448,394) on 324 screens.

Dragon Ball Z: Battle of Gods fell from #1 to #4 during its fourth weekend. The film is set between the 517th and 518th installments of Akira Toriyama's original manga. Specifically, it is set during the "lost decade" of story time after the end of the battle with Majin Buu. It features new characters Birusu — the God of Destruction played by Kouichi Yamadera — and his attendant Wisu (Masakazu Morita). The film earned 164,136,728 yen (US$1,671,076) on 313 screens for a new total of 2,635,388,447 yen (US$26,830,889).

The Steins;Gate Fuka Ryōiki no Déjà vu film debuted at #7. The film has an original story set after the "true end" of the earlier story. Kanji Wakabayashi is directing the film with supervisor Tarou Deji and chief directors Takuya Satō and Hiroshi Hamasaki. Tatsuya Matsubara and Naotaka Hayashi are supervising the story scenario, and Jukki Hanada is writing the screenplay. Kyuuta Sakai is once again adapting huke's original character designs for anime and overseeing the animation process at WHITE FOX. The main cast is also returning. The film ranked at #6 on Box Office Mojo's chart and earned 92,643,237 yen (US$943,200) on 18 screens.

The 2013 Doraemon film, Doraemon: Nobita no Himitsu Dōgu Museum (Doraemon the Movie: Nobita's Secret Gadget Museum), fell from #4 to #10 during its seventh weekend. The movie begins when the signature bell of the titular robot cat Doraemon has been stolen. To get it back, Nobita and his friends have to go to the museum where all of Doraemon's gadgets originate. The film earned 52,785,083 yen (US$537,404) on 332 screens for a new total of 4,038,210,641 yen (US$41,113,022).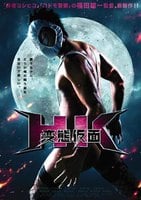 The live-action HK/Hentai Kamen film adaptation of Keishuu Andou's Ultimate!! Hentai Kamen manga stayed at #12 on Box Office Mojo's chart during its third weekend. Ryōhei Suzuki (live-action Gatchaman, Mei-chan no Shitsuji, Hana-Kimi, Yankee-kun to Megane-chan) stars as Kyōsuke Shikijō, a high school boy who transforms into a hero by wearing a panties mask — and little else. The film earned 23,518,166 yen (US$239,438) on 22 screens for a gross total of 64,346,648 yen (US$655,113).

The Precure All Stars New Stage 2: Kokoro no Tomodachi film fell from #9 to #13 on Box Office Mojo's chart in its sixth weekend. The film is the fifth to unite all the main characters from the Precure magical girl franchise. The story begins when all the magical girls receive an invitation to the fairies' school for a Precure party. The film earned 22,056,208 yen (US$224,554) on 167 screens for a new total of 1,050,561,126 yen (US$10,695,762).

The Eiga Hana Kappa Hana-sake! Pakkaan Chō no Kuni no Daibōken film fell from #11 to #14 on Box Office Mojo's chart during its second weekend. The anime adapts Tadashi Akiyama's Hana Kappa-kun picture books and newspaper manga about a kappa (mystical Japanese river creature) who happens to have a flower (hana) growing out of his head. Hana Kappa lives with his father, mother, grandfather, and grandmother in a verdant village known as Yamabiko. In the film, butterfly warriors suddenly appear in Yamabiko and snatch away Hana Kappa's mother and others. Hana Kappa and his friends head out towards the mystery-filled land of butterflies. They overcome obstacles such as mountains and deserts and along the way, encounter a mysterious boy named Poru. The film earned 19,499,771 yen (US$198,527) on 146 screens for a new total of 50,447,701 yen (US$513,608)
Sources: Kogyo Tsushinsha, Box Office Mojo
---
This article has a follow-up:
Japanese Box Office, April 27-28
(2013-05-05 19:00)
follow-up of
Japanese Box Office, April 13-14