×
remind me tomorrow
remind me next week
never remind me
Subscribe to the ANN Newsletter • Wake up every Sunday to a curated list of ANN's most interesting posts of the week.
read more
News

Space Dandy's Japanese Full Promo Previews Voices

posted on by Sarah Nelkin
---
Bandai Visual began streaming the first full promotional video for the Space Dandy television anime on Monday. The video begins with Dandy (voiced by Junichi Suwabe) dramatically saying, "Living by drifting and being drifted... That's me!" In reply, Meow (Hiroyuki Yoshino) says, "It seems like you're saying something really deep, but...," and QT (Uki Satake) finishes his statement by saying, "We didn't say anything."
The official website also updated on Monday, revealing lists for the musical talent and creators behind the show.
The participating musical artists are as follows:
Izumi Macra
Taro Umebayashi
Yasuyuki Okamura
Hiroshi Kawanabe (TOKYO No.1 SOUL SET)
Yoko Kanno
KenKen
kensuke ushio (agraph, LAMA)
ZEN-LA-ROCK
TUCKER
☆Taku Takahashi (m-flo,block.fm)
Mountain Mocha Kilimanjaro
DOKAKA
Noriyoshi Sasanuma (SLY MONGOOSE)
JUNK FUJIYAMA
Hiroyuki Namba (BAOH)
Tomonori Hayashibe
Mito (Clammbon)
Shūtoku Mukai
Fujimaru Yoshino (SHOGUN)
Latin Quarters
LUVRAW & BTB
The full creator list is as follows:
Kunio Okawara
Thomas Romain
Shinichiro Watanabe
Kazutaka Miyatake
Keiko Nobumoto
Ichiro Okouchi
Masaaki Yuasa
Katsuya Terada
Niθ (Nitroplus)
Goro Taniguchi
Hiroyuki Aoyama
Manabu Akita
Masashi Ikeda
Kayoko Ishikawa
Makoto Ishiwata (Nitroplus)
Yoshiyuki Ito
Kazumi Inadome
Toshiaki Uesugi
Kimiko Ueno
Emeric Kevin
Toh Enjoe
Katsuhiro Otomo
Tomoaki Okada
Gakuo Ogata (Nitroplus)
Masayuki Ogisu
Hiroyuki Okuno
Kiyotaka Oshiyama
Gosei Oda
Yuko Obari
Fumihiro Katagai
Atsushi Kamijō
Tomohiro Kishi
Mantō Kinriki (Nitroplus)
Takuhito Kusanagi
Chikashi Kubota
Yuka Koiso
Rei Kawano
Yumiko Kondou
Satoshi Saga
Ikuro Sato
Dai Sato
Nanami Satō
Hiroshi Shimizu
Tomohisa Shimoyama
So Toyama
Atsushi Takahashi
Fumihiko Takayama (J.C.STAFF)
Shingo Takeba
Shou Tajima
Jun'ichirō Tamamori
Chūnyon
Yuriko Chiba
Shintaro Dōge
Eiji Nakada
Namaniku ATK (Nitroplus)
Iho Narita (Kusanagi)
Shingo Natsume
Seiichi Hashimoto
Hiroshi Hamasaki
Akemi Hayashi
Toshio Hirata
Michio Mihara
Masayuki Miyaji
Hisashi Mori
Hayashi Mori
Etsuko Yakushimaru
Sayo Yamamoto
Takaaki Wada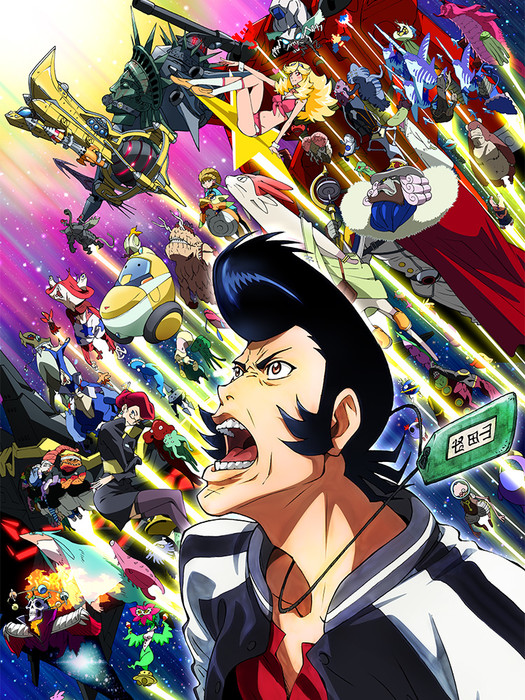 Space Dandy is the upcoming science-fiction comedy series from director Shinichiro Watanabe (Macross Plus, Cowboy Bebop, Samurai Champloo, Kids on the Slope) and studio BONES.
The story revolves around Dandy, an alien-hunter. His job is to seek out new aliens never seen before, and receives a reward whenever he finds a new species. His mission is to find those new species faster than anyone else as he travels the galaxy. Together with the bucket-of-bolts robot QT and the dimwit alien Meow he picked up along the way, he comes into contact with new planets and their inhabitants.
The cast includes:

Junichi Suwabe plays Dandy, a human male who works as an alien hunter. His age is unclear, but he is most likely in his late 20s. He does not care about little things, and believes that his dream is somewhere in the world. He frequents "Boobies," a restaurant known for its voluptuous waitresses. (As Bones producer Masahiko Minami observes, Boobies is not to be confused with the Hooters chain.)

Fashion model and 9nine idol group member Uki Satake plays QT, a vacuum cleaner robot. QT says that she is high-powered, but she's actually just a bucket of bolts. (Minami: "It's a Roomba.") She's very serious and her pride is a little big. She likes tidiness.

Hiroyuki Yoshino plays Meow, a dimwit alien. Contrary to expectations, he's not a genetically advanced cat, but he's actually an alien that lives on the star Betelgeuse. Meow is very carefree, as if he were raised with no constraints. He already knows how to use a cellphone.
Unshou Ishizuka as Dr. Geru, a brilliant scientist pursuing Dandy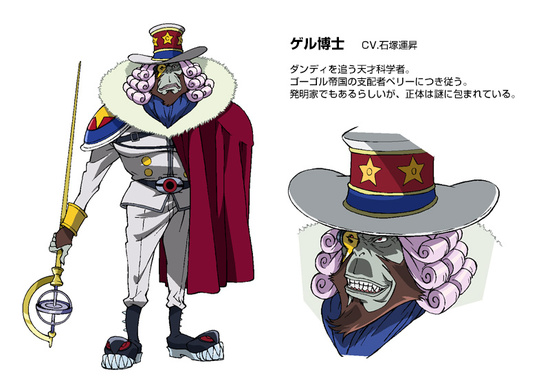 Kosuke Hatakeyama as Bee, Dr. Geru's assistant from the planet Pylori. At first glance, he looks like a cucumber, but he is a person.


Banjou Ginga as Commodore Perry (not pictured)
Yurin as Honey, a waitress with a nice body and dim wits at the Boobies restaurant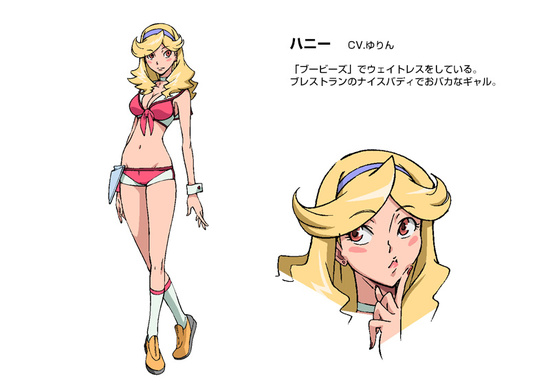 Houko Kuwashima as Scarlett, a beautiful inspector at the space alien registration center


Finally, Masaaki Yajima will be the narrator.
Staff members include:
General Director: Shinichiro Watanabe
Director: Shingo Natsume
Scriptwriters: Dai Sato, Keiko Nobumoto, and Kimiko Ueno
Character Design: Yoshiyuki Ito
Spaceship Design: Thomas Romain
Theme Song: Yasuyuki Okamura
Animation Production: BONES
Yasuyuki Okamura (City Hunter 2) is performing the theme song "Viva Namida" and another song, "Healthy Merci."
Funimation had announced that it has acquired the home entertainment, digital, theatrical, and merchandise rights to the series. Funimation also confirmed that it will simulcast the subtitled version of the show on its website. Adult Swim's block will host the world premiere of the series in January, before the show premieres in Japan.
Update: New visual added. Thanks, jet_
Images © 2014 Bones/Project Space Dandy
---