News

Tamako Love Story Film's Full Trailer Unveiled

posted on by Egan Loo
Tamako Market
film focusing on romance to open in Japan on April 26
---
The Tamako Love Story stage event at Pony Canyon's AnimeJapan booth unveiled a full trailer for Kyoto Animation's upcoming anime film on Saturday.
Mochizō: Since the time we were born, we were neighbors across the street. The daughter and son of two different mochi stores. I fell in love with this childhood friend...
Text: Tamako Kitashirakawa
Text: Mochizō Ōji
Text: Tamako Love Story Trailer
Midori: You're toooootally watching Tamako, aren't you? ...But you're just looking.
Mochizō: Huh!? I'm not looking that much! And also, I'll say it to Tamako...
Text: What he wanted to say, but couldn't.
Text: Something that was so obvious, she didn't even notice.
Mochizō: Tamako. I, um... I'm going to a college in Tokyo. So before that, I want to tell you my feelings...
Text: Director Naoko Yamada
Text: Screenplay: Reiko Yoshida
Text: Character Designer: Yukiko Horiguchi
Mochizō: I'm really... Really in love with you, Tamako!
Text: Their love is so close, but so far away.
Tamako: I wasn't able to accept it properly... The baton, and also...
Text: Animation Production: Kyoto Animation
Text: Third-year students in high school
Tamako: I think a lot of things are going to change. I wonder what I should do?
Text: Each on their own path.
Text: Moving ahead one step.
Text: The distance between the two begins to change.
Tamako: Mochizō!
Tamako & Mochizō: Tamako Love Story.

Kyoto Animation's main staff for the Tamako Market television anime is returning for the Tamako Market film, including director Naoko Yamada, head scriptwriter Reiko Yoshida, and character designer Yukiko Horiguchi. This is the latest brand-new film from Kyoto Animation after K-ON! and Takanashi Rikka • Kai ~Gekijō-ban Chūnibyō demo Koi ga Shitai!~.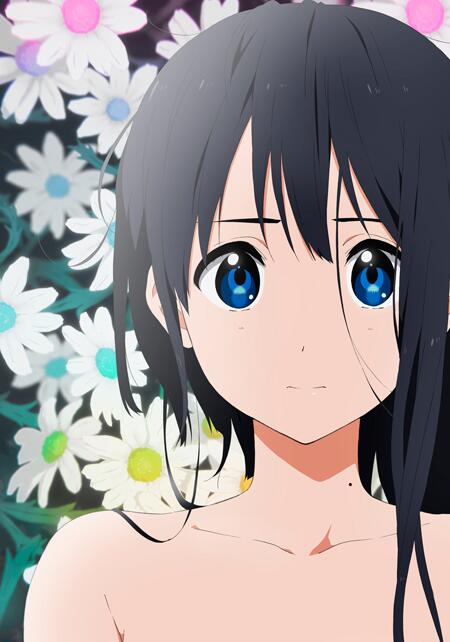 The video lists the cast members in the following order:
Aya Suzaki as Tamako Kitashirakawa
Atsushi Tamaru as Mochizō Ōji
Yuki Kaneko as Midori Tokiwa
Juri Nagatsuma as Kanna Makino
Yurie Yamashita as Shiori Asagiri
Rina Hidaka as Anko Kitashirakawa
The film will open in theaters across Japan on April 26.
Thanks to Maxim Firsov for the embedded video
Image © Kyoto Animation / Usagiyama Shopping District
Update: Shorter television spot added.
---