News

Lupin III: The Castle of Cagliostro's Remaster Gets Theatrical Run in Japan

posted on by Crystalyn Hodgkins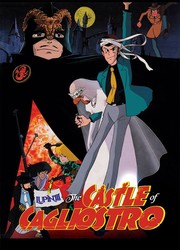 The previously announced digital remaster of Hayao Miyazaki's first feature film, Lupin III: The Castle of Cagliostro, will be screened in theaters across Japan starting on May 9. The official website for the Lupin III franchise also notes that theaters will be selling reissues of the original 1979 poster and pamphlet for the film.
Released in 1979, Lupin III: The Castle of Cagliostro features the master thief Lupin the Third, created by the manga artist Monkey Punch. In the film, Lupin and Jigen search for a counterfeiter who swindled them, and end up in the secluded country of Cagliostro. The story also involves a wicked count and an innocent princess (the latter voiced in Japanese by Sumi Shimamoto, who would play Miyazaki's heroine Nausicaä five years later).
Amazon is listing that the film will ship in Japan on Blu-ray Disc on August 6. Discotek Media announced last month that it will release the film on DVD "probably in August" and then on Blu-ray Disc by the end of 2014 or early 2015. Both releases will include both English dubs, the original intro, and the Japanese audio track with English subtitles.
Streamline Pictures originally released the film on VHS and Laserdisc in the U.S. in the 1990s. Manga Entertainment then re-dubbed the film and released it on DVD in 2000 and again in 2006.
Thanks to Daniel Zelter for the news tip.
[Via Hachima Kikō]
---