News

Terror in Resonance Second Promo Reveals Cast, Theme Song

posted on by Karen Ressler
---
The official website for Terror in Resonance (Zankyō no Terror), the upcoming summer anime from director Shinichiro Watanabe (Cowboy Bebop, Kids on the Slope) and the anime studio MAPPA, began streaming a promotional video this Friday. The video features the opening theme song "Trigger" by Galileo Galilei's Yuuki Ozaki. Aimer will perform the ending theme "Dareka, Umi o."
The video introduces the main cast:
Kaito Ishikawa as Nine
Nine is a calm young man with a bright mind who attends high school with Twelve. However, his true motive is wrapped in mystery.


Atsumi Tanezaki as Risa Mishima
Risa Mishima attends the high school Nine and Twelve transfer into. She is bullied in her class, and had problems at home as well. By meeting Twelve, her fate changes into something unbelievable.


Sōma Saitō as Twelve
Twelve is a young man who with a childlike innocence. He treats Nine like a big brother, and goes to the same high school with him. He also works alongside him.


Shunsuke Sakuya as Shibasaki
Shibasaki is a detective in the metropolitan police department. He used to work in the investigations division but now works in the records division. He's a contemporary of the head of the terror incident investigation.


Megumi Han as Five
Five is a nuclear scientist for NEST, an organization that works with the FBI.



The website also unveiled a new key visual: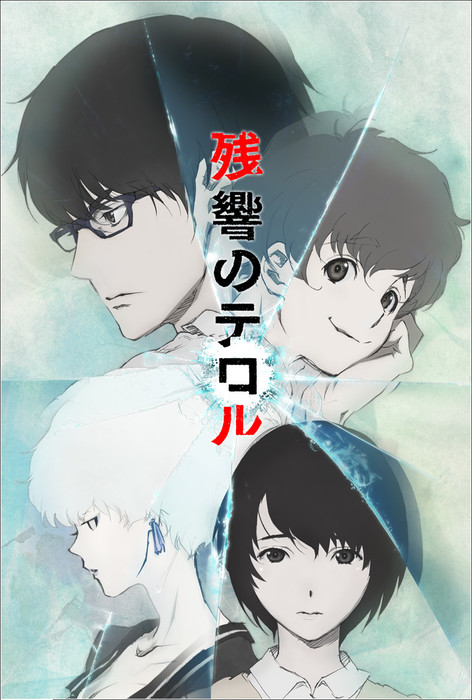 Anime Expo will host the world premiere of the anime in Los Angeles on July 5 at 1:30 p.m. The anime will also premiere that same weekend at Japan Expo in Paris. A preview event with a cast talkshow will be held in Japan on June 28 and 29.
Funimation will stream the series as it airs, and describes the "suspense-filled intellectual thriller":
In an alternate version of the present, Tokyo has been decimated by a shocking terrorist attack, and the only hint to the identity of the culprit is a bizarre video uploaded to the internet. The police, baffled by this cryptic clue, are powerless to stop the paranoia spreading across the population.

While the world searches for a criminal mastermind to blame for this tragedy, two mysterious children – children who shouldn't even exist – masterfully carry out their heinous plan. Cursed to walk through this world with the names Nine and Twelve, the two combine to form "Sphinx," a clandestine entity determine to wake the people from their slumber – and pull the trigger on this world.

Yoko Kanno (Macross Plus, Cowboy Bebop, Kids on the Slope) is composing the music, and Kazuto Nakazawa (Samurai Champloo) is designing the characters. Other staff members include:
Assistant Director: Yuzuru Tachikawa
Color key: Kunio Tsujita
Art director: Hidetoshi Kaneko
CG Director: Yuushi Koshida
Director of Photography: Hitoshi Tamura
Editing: Kiyoshi Hirose
In Japan, the anime will premiere on Noitamina block on July 10.
Images © Zankyō no Terror Production Committee
---