News

Pokémon Sun & Moon Games Reveal Team Skull, New Forms of Old Pokémon in Video

posted on by Crystalyn Hodgkins
3 new Pokémon also revealed for games shipping on November 18
---
The official Pokémon YouTube channel began streaming a new video on Thursday for the Pokémon Sun and Pokémon Moon games.
The video introduces the "ruffians" on Alola, who operate under the name Team Skull. Members of the team include Plumeri (pictured with pink and yellow pigtails in the video above) and Guzma (pictured with white hair and yellow-rimmed glasses in the video above). The video also reveals new Pokémon and new Alola versions of familiar Pokémon. Meowth (Nyarth), Marowak (Garagara), and Raichu are all getting Alola versions in the new game. The new Alola Meowth is a dark-type Pokémon, the new Alola Marowak is a fire- and ghost-type Pokémon, and the new Alola Raichu is an electric- and psychic-type Pokémon.
The other new Pokémon introduced in the trailer include (in the order they're introduced in the above video):
Nemashu, a fairy- and grass-type Pokémon
Yowashi, a water-type Pokémon who has both a solo and a school form
Namakobushi, a water-type Pokémon
A manga adaptation of the game will premiere in the October issue of Shogakukan's Coro Coro Comics magazine on September 15. A preview of the manga will run in the September issue on Friday.
The games will debut in Japan and North America on November 18, followed by Europe on November 23. The three Starter Pokémon (pictured below) are: the Grass-type Rowlet (Mokuroh in Japan), the Fire-type Litten (Nyabby), and the Water-type Popplio (Ashimari).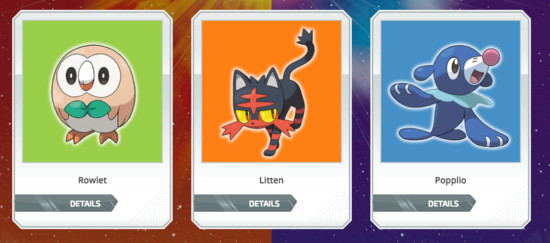 The games' new Legendary Pokémon include Solgaleo and Lunala (pictured below):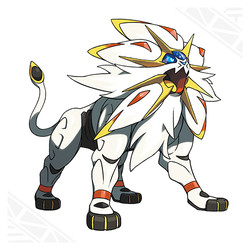 The games will be available on the Nintendo 3DS worldwide in Japanese, English, French, Italian, German, Spanish, Korean, and — unlike in the previous generation — Chinese (Traditional and Simplified). Players can choose their preferred language when they launch each game.
2016 marks the 20th anniversary of the Pokémon game franchise.
---
This article has a follow-up:
Pokémon Sun & Moon Games' English Team Skull Reveal Trailer Streamed
(2016-08-11 13:15)