News

World of Final Fantasy Game Adds Terra, Bartz, Boko

posted on by Alex Mateo
---
Kadokawa's Weekly Famitsu Magazine is reporting on Thursday that Square Enix's World of Final Fantasy PlayStation 4 and PlayStation Vita game is adding three characters from the Final Fantasy series: Bartz and Boko from Final Fantasy V and Terra from Final Fantasy VI. The game casts Yukari Fukui as Terra, Soichiro Hoshi as Bartz, and Kana Hanazawa as Boko.

More information will be in the magazine issue on Thursday.
The official Japanese website lists the Japanese voice actors for the twin sibling protagonists Lann and Reynn. Sōma Saito will play Lann and Sora Amamiya will play Reynn. Additionally Ayana Taketatsu will play the familiar Tama. Other cast members include:
Shigeru Chiba as Cactuar Conductor
Jouji Nakata as Tonberry
Sumire Morohoshi as Moogle
Keiji Fujiwara as Ifrit
Takako Honda as Shiva
Tamio Ohki as Ramuh
Kiyoshi Kobayashi as Odin
Aoi Mizu (also known as mizuki from her performance of the second Aldnoah.Zero opening theme) performs the opening theme song "Innocent²," composed by Ryo Yamazaki.
The game is slated to release in North America on October 25, in Japan on October 27, and in Europe on October 28.
Square Enix describes the game:
Two siblings journey to a mysterious land to rediscover their lost memories. In this peculiar place where stacking things on one's head is perfectly normal, the young monster tamers will encounter new friends and familiar FINAL FANTASY heroes as they learn the truth about their pasts.
The game's PS4 version will get a Collector's Edition, which, in addition to the game, contains: a pop-up book; an 80-page art book; mini-figures of Squall, Cloud, and Lightning; a 20-track soundtrack; and extra DLC. The extra DLC includes: a Sephiroth summon; Red Bonnetberry, White Chocobo and Glow Moogle mirages; and the original Japanese voice track for the game. The Collector's Edition will cost US$119.99 and is only available for the PS4 version of the game. The European Collector's Edition includes the same extras.

The game's Limited Edition for PS4 only includes a 24-page artbook and the extra DLC (Sephiroth, Red Bonnetberry, White Chocobo, Glow Moogle, and Japanese voice track) from the Collector's Edition, and retails for US$59.99.

The game will also get a Day One edition, which includes the extra DLC (Sephiroth, Red Bonnetberry, White Chocobo, Glow Moogle, and Japanese voice track) from the Collector's Edition. The Day One Edition will cost US$59.99 (or US$39.99 for the PS Vita version). The Day One Edition in Europe will feature the same extras.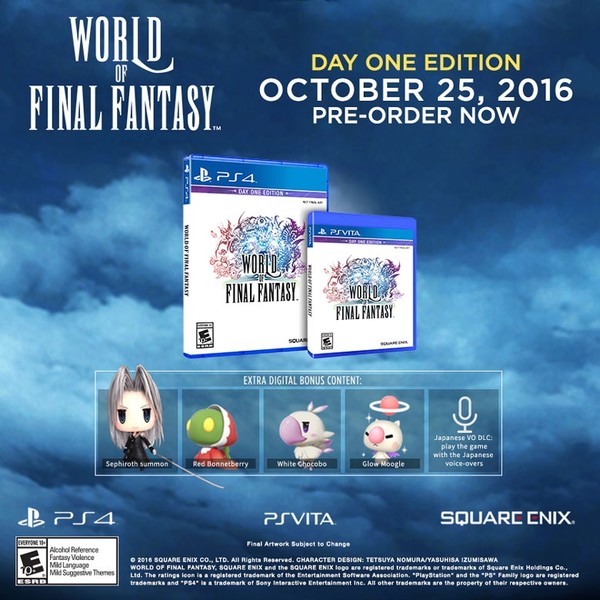 [Via Gematsu]
---