News

Cleanliness Boy! Aoyama-kun Anime's Promo Video Reveals More Cast, Ending Song Artists

posted on by Rafael Antonio Pineda
---
The official website for the television anime of Taku Sakamoto's Cleanliness Boy! Aoyama-kun (Keppeki Danshi! Aoyama-kun) manga began streaming a promotional video for the anime on Tuesday. The video reveals additional cast and the ending theme song artists for the anime, and previews the anime's opening theme song "White" by rock band Bentham.
The new cast includes:


Sōichiro Hoshi as Kazuma Sakai, a second-year student on Fujimi High School's soccer team who wears the #3 jersey. He is a defender alongside Tsukamoto and Kichioka. He lives his high school life leisurely, and is a common-sense guy with leadership qualities.


Daisuke Sakaguchi as Jin Tsukamoto, a second-year student on Fujimi High School's soccer team who wears the #4 jersey. One of his special skills include the ability to juggle the ball with his butt, which he has dubbed "butt juggling." He also spends a lot of time in social media under the alias "Glasses Gentleman Z."


Hiroyuki Yoshino as Taichi Yoshioka, a second-year student on Fujimi High School's soccer team who wears the #2 jersey. He is a gentle soul who likes to eat. He loves donuts above all.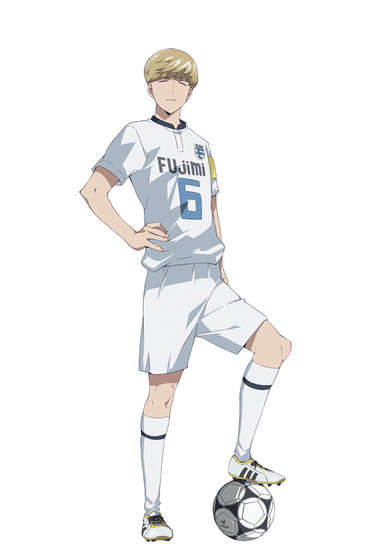 Noriaki Sugiyama as Gaku Ishikawa, a third-year student and the captain of Fujimi High School's soccer team. He wears the #6 jersey. He is the only one on the soccer team who has a girlfriend. But his girlfriend is part of Aoyama-kun's fan club.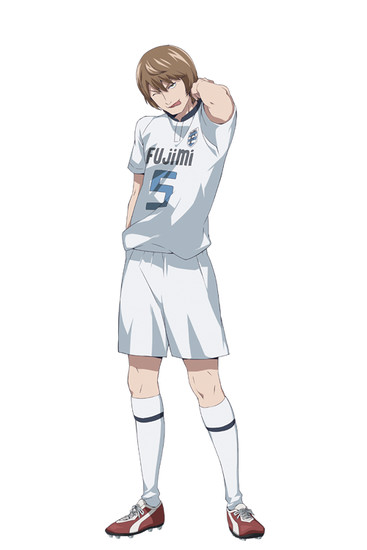 Daisuke Kishio as Hikaru Tada, a third-year student on Fujimi High School's soccer team who wears the #5 jersey. A narcissist who thinks of himself as just a hair above Aoyama-kun.
Ryotaro Okiayu, Tomokazu Seki, Sōichiro Hoshi, Daisuke Sakaguchi, and Hiroyuki Yoshino is performing the ending theme song "Taiyō ga Kureta Kisetsu" (The Season the Sun Gave Us) under the group name "Fujimi High School Soccer Team."
The anime's website is also streaming a collaboration video with the FC Tokyo football club, supporting the club in their match against the Kashima Antlers on July 8 at the Ajinomoto Stadium. The video features FC Tokyo player Shōya Nakajima.

The manga centers on a handsome young soccer genius named Aoyama who is on Japan's team for players under 16 years old. His play style is "cleanliness." He doesn't tackle and doesn't head the ball. If he's doing a throw-in, he'll only do it if he's wearing gloves.
The previously announced cast includes:


Ryotaro Okiayu as Aoyama-kun, a first-year student on Fujimi High School and the ace of the soccer team who wears the #10 jersey. His soccer skills are so great that he is the U-16 representative midfielder for Japan. He's so obsessed with cleanliness that out of principle, he refuses to head the ball or slide. For a certain reason, he attends Fujimi High School.


Tomokazu Seki as Kaoru Zaizen, a second-year student on Fujimi High School and the passionate forward of the soccer team. He was wearing the #10 jersey before Aoyama joined the team. He at first thought Aoyama was creepy, but gradually approved of him once he saw the hidden passion that Aoyama has. He's the eldest son of the Zaizen conglomerate, and his father dotes on and spoils him.


Anzu Haruno as Moka Gotō, a first-year student on Fujimi High School, who doesn't belong to any club. She talked to Aoyama once in elementary school, but he's forgotten her. She carries around a spiked bat with a floral pattern on it as her trademark.

Kazuya Ichikawa (Monster Strike the Animation, Tantei Team KZ Jiken Note) is directing the anime at Studio Hibari, with scripts supervised and written by Midori Gotou (Hozuki's Coolheadedness, The Empire of Corpses). Arisa Matsuura is designing the characters. Pony Canyon is credited for music production, and TMS Entertainment is credited for production. Rock band Bentham is also performing the insert song "Boku kara Kimi e" (From Me to You).
The anime will premiere on Tokyo MX on July 2 at 24:00 (effectively July 3 at 12:00 a.m.), and will then air on Yomiuri TV and BS11.
Sakamoto published the manga in Shueisha's Miracle Jump magazine in 2014, and then resumed the series in Weekly Young Jump in 2015. Shueisha published the manga's seventh compiled book volume on February 17, and published the eighth and ninth volumes simultaneously on Monday.
---