News

Crunchyroll Simulcasts Taisho Mebiusline Chicchaisan Short Anime

posted on by Rafael Antonio Pineda
---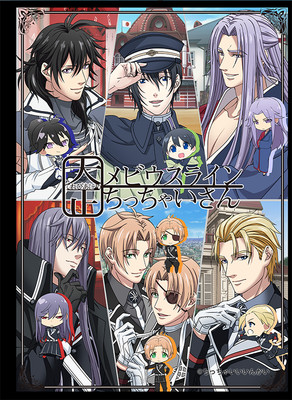 Crunchyroll announced on Thursday that it will stream Taisho Mebiusline Chicchaisan, the television anime short series based on HolicWorks' Taishō Mebius Line boys-love game. The stream will debut on Friday at 10:30 a.m. EDT for members worldwide outside of Asia.
Crunchyroll also revealed that its stream of the Kino's Journey - the Beautiful World (Kino no Tabi -the Beautiful World- the Animated Series) anime will debut on Friday at 11:30 a.m. EDT for members worldwide outside of Asia. Funimation will dub the series. The anime will premiere in Japan on AT-X on Friday at 10:00 p.m., and will then air later in the evening on Tokyo MX, Sun TV, KBS Kyoto, and BS11.
Crunchyroll describes Taisho Mebiusline Chicchaisan:
It's' the closing years of the Taisho era, a turbulent time when the military empire of Japan is rising to go to war with the world. The protagonist, Hiiragi Kyoichiro, has come to the Imperial Capital, Tokyo, to attend Imperial University. He is determined to pursue a scholar's path and become a great man back in his hometown.

But now the Japanese army has set its sights on Kyoichiro, because of a special ability that he possesses. As a result of a terrible illness from his youth, Kyoichiro gained the ability to see the spirits of the dead.

The army wants to use these spirits, which to Kyoichiro were always a thing to be feared, in order to counter the threats of other countries. Others stand in the way of the military and its plans. They involve themselves in Kyoichiro's destiny, and begin to change the future of the empire.
The anime series' episodes will be five minutes long. The series will premiere in Japan on Tokyo MX on Friday at 9:54 p.m., and will also air on TV Saitama and will stream on GyaO!. Mawari Watanabe (episode director for both seasons of Aldnoah.Zero) is directing the series at Studio A-CAT. minatsu is the character designer, Hajime Nakano is the SD character designer, and Alice Rokugen is composing the music. The official website for the show is streaming a promotional video.
HolicWorks developed the game under its LoveDelivery boys-love game label, and released it for PC in 2012. The game also received a PlayStation Portable version in 2014, and a PlayStation Vita version in January 2016.
---