News

Tales of the Stage Video Previews 2 Types of Performance

posted on by Jennifer Sherman
Event-focused performance slated for June; story-focused performance slated for August & September
---
The official website for Bandai Namco Entertainment's new Tales of the Abyss stage play, Tales of the Stage - Lorelei no Chikara wo Tsugusha (Tales of the Stage - Inheritor of Lorelei's Power), began streaming a promotional video on Friday. The stage footage in the video is from last year's Tales of the Stage: Last Score play.
The official website also announced that the play will have two different performances. As previously announced, Tales of the Stage - Lorelei no Chikara wo Tsugusha - LIVE&THEATER at Yokohama Arena will run at Yokohama Arena Main Hall on June 15, and will utilize the second stage that extends into audience seating. This performance will include audience participation, a talk show, and the "special guest cast" below.
Chihiro Suzuki (Luke Fon Fabre's game voice actor)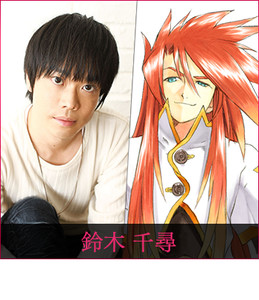 Takehito Koyasu (Jade Curtiss' game voice actor)


On the other hand, Tales of the Stage - Lorelei no Chikara wo Tsugusha - Emotional Act will run at Zepp DiverCity Tokyo in August and Zepp Nanba Osaka in September. This performance will focus on the story and will feature as-yet-unannounced additional cast.
This original work adapts the Tales of the Abyss PlayStation 2 and Nintendo 3DS role-playing game into a dance and acrobatics entertainment show. This play again tells the story of main character Luke Fon Fabre and Asch, as previously told in Tales of the Stage: Last Score, but will focus on Asch's untold story.
The full returning stage play cast includes:
Yūya Arai as Asch


Kota Iwaki as Luke Fon Fabre


Fuyuna Asakura as Natalia Luzu Kimlasca-Lanvaldear


Sena from The Hoopers as Tear Grants


Ryoji as Van Grants


Saki Takahashi as I.O.N/Sync


Yukima Saito as Legretta


Chihiro Kai as Anise Tatlin


Kensuke Uchida as Mohs


New cast members include:
Reo Kawamura as Guy Cecil (replacing Kō Hosokawa)


Asami Okamoto as Arietta


Orito Kasahara from STARBOYS as Dist


Eiji Moriyama as Largo


Mio Hanana as Noir


As with Tales of the Stage: Last Score, Tetsuharu is in charge of direction and choreography, and Oropa Irie is writing the script.

The Blu-ray Disc set for Tales of the Stage: Last Score will be available on June 6. The stage play ran in June 2017 at the Tales of Festival" event, and then later ran in Osaka in August and in Tokyo in September.
Bandai first released the game for PlayStation 2 in 2005, and later ported the game to Nintendo 3DS. An anime adaptation aired from 2008-2009, and Bandai Entertainment released the series on DVD. The game has also inspired multiple manga adaptations.

---
Disclosure: Bandai Namco Rights Marketing, Inc., a wholly owned subsidiary of Bandai Namco Holdings Inc., is a non-controlling, minority shareholder in Anime News Network Inc.
---