News

AIC Plans Crowdfunding for El Hazard Sequel Project

posted on by Rafael Antonio Pineda
Campaign aims to fund 5-minute pilot to prove viability of full anime project
---
Anime production company AIC is showing a preview page for a new Campfire crowdfunding campaign to raise funds for a five-minute pilot film for the El Hazard - The Magnificent World franchise. If funded, the pilot will be for a possible new anime project titled El Hazard: The Dual World.

The campaign has not yet launched, but it will aim to raise 5 million yen (about US$45,000) to fund production for the pilot. The project already has a committee to fund the project partially if the campaign is successful. The project aims to prove the viability of funding a full anime project (the page mentions that most television anime projects need a 200 million yen budget).
Yūsuke Maruyama is directing the project.
The story will center on two new characters named Naoto and Farasha Jinnai. Naoto's daily life is upended when he meets a mysterious cat. Meanwhile, Ifurita notices that the Eye of God is collapsing. Both signal change in their worlds. Farasha, the daughter Katsuhiko and Diva, chases her father's dream of being the student council president.
The characters include:
Naoto, a high school student at the top of his grade level in both grades and popularity. He has a thickheaded side. The story begins when his normal daily life crumbles with the appearance of a mysterious cat.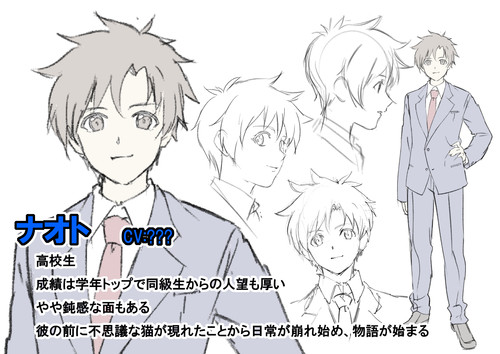 Farasha Jinnai, a high school student, and Jinnai and Diva's daughter. While a bit of an airhead, she is very passionate. She aims to become the student council president. She has been friends with Mauj and Sefi since childhood.


Mauj, nicknamed "Mau." She is a close friend of Farasha, and the daughter of Fujisawa and Miz. She is the new water priestess.


Asefa, nicknamed "Sefi." She is a close friend of Farasha, and the new wind priestess.


Katsuhiko Jinnai, the lord of the Bugrom, and Farasha's father.


Tama, Farasha's guardian, and a leading figure in the Bugrom.


The franchise began with the seven-episode El Hazard - The Magnificent World OVA by AIC in 1995, followed by the 26-episode El-Hazard: The Wanderers television anime, which is an alternate retelling of the story. The original OVA received a four-episode sequel OVA in 1997 titled El Hazard 2 - The Magnificent World, and a 12-episode sequel television anime titled El Hazard: The Alternative World.
El Hazard: The Dual World is the fourth of the special "Anime Reboot Projects" to celebrate AIC's 35th anniversary. The other three are the tentatively titled Megazone 23 sin remake project, the Tenchi Muyo! and Pretty Sammy franchises' tentatively titled Sasami 14 sequel, and the Megazone 23 XI project. AIC has launched an ongoing supplementary campaign for Megazone 23 XI.
Thanks to Nil Admirari for the news tip.
Source: El Hazard: The Dual World Campfire project preview page
---