Preorder of the First X-tra by Tsume Figures

Naruto Uzumaki & Pain are the two first releases of our new X-tra by Tsume brand, a range of high quality PVC figures. Get these two pieces on pre-order now on www.tsume- art.com and in partners shops.

X-tra by Tsume is our second collection of PVC figures. It features non-articulated figures at 1/10th scale with very high paint job and sculpt job levels for an affordable retail price.

Limited at 3000 pieces, each figure is sold in a nice cardboard box, which is in the character's colors. The first franchise to be available in X-tra by Tsume is Naruto Shippuden with the charismatic hero Naruto Uzumaki's statue and Pain, leader of Akatsuki.

Each figure benefits the whole expertise Tsume grows with the HQS by Tsume's projects to get very precise and detailed figures, unmatched with this range's products.

With HQF and X-tra, Tsume strengthens its positioning since it's the only European manufacturer and publisher to propose such a wide range of products to answer the requests of the fans.

Technical Information

Naruto

Height: 17.5 cm
Width: 15.5 cm
Depth: 15 cm
Weight: ± 500 g
Scale: 1/10th
Price: 44,90 €
Pain
Height: 19.5 cm
Width: 13 cm
Depth: 11 cm
Weight: ± 500 g
Scale: 1/10th
Price: 44,90 €
Estimated release date: 2013 May/June

ABOUT TSUME

Tsume is a company specialized in design of high quality statues in resin, numbered and limited edition. Tsume works with very famous licenses from the Japanese entertainment universe: Naruto Shippuden, Saint Seiya, Bleach, Fairy Tail, Soul Eater or Assassin's Creed for Ubi Soft. Our last licence is One Piece for the HQS by Tsume's range.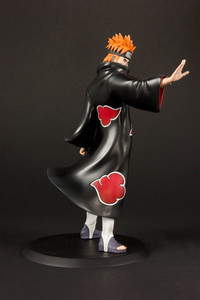 ---