eManga Ventures Into Video Games with eigoMANGA's Vanguard Princess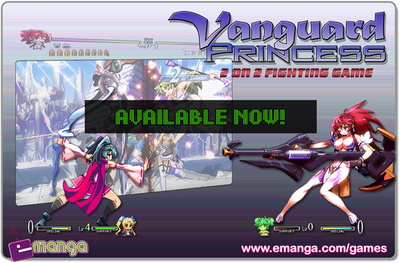 Gardena, CA. (March 18, 2013)
Digital Manga, Inc., one of the manga industry's most progressive and innovative publishers, is excited to announce the introduction of video games to its online ebook store eManga.com with the sale of EigoMANGA's 2D PC fighting game, Vanguard Princess. In its quest to offer more variety and digital content in its ever-expanding selection, eManga will offer eigoMANGA's English release of Vanguard Princess as its first foray into offering quality PC gaming. Go directly to:
http://www.emanga.com/games
The original Vanguard Princess game was developed by Tomoaki Sugeno and released as an independent Japanese freeware game in 2009. eigoMANGA's release offers an enhanced and localized version of the game with revised features such as reformatted anime visuals and cut scenes, as well as updated gameplay mechanics. Featuring an all-female cast of fighters in an appealing anime aesthetic to get any fanboy's heart racing, Vanguard Princess allows players to choose from ten fighters with their own unique fighting styles and pair them with a sidekick to form a powerful fighting duo.
Vanguard Princess will be available for purchase as a direct download PC game from eManga for $5.00.
Version: 1.1.1
System Requirements
:
Windows
2000/XP/Vista (with DirectX 7.0)
Pentium III 400MHz, 128MB RAM
Graphics card with 32MB video RAM
400MB
hard disk
space
4-button game controller (Optional)
Trailer:
http://www.youtube.com/watch?v=ZI_B4lDvJrk
Visit us at
www.eManga.com
and sign up for the
eManga newsletter
and get all the latest updates!
About Digital Manga, Inc.
Located in Gardena, CA, Digital Manga, Inc. is one of the industry's most unconventional and innovative companies, specializing in building corporate and cultural bridges from Japan to the West — specifically through the licensing, importation and preparation of anime (Japanese animation), manga (Japanese comic books) and related merchandise for North America's mainstream and niche markets. In this capacity, DMI serves as a catalyst for the spread of Japanese pop culture institutions into the global arena. The company's imprint lines include DMP (its mainstream imprint), DMP PLATINUM (its classic manga imprint), JUNÉ (its boys love imprint), 801 MEDIA (its adult boys love imprint), DokiDoki (its exclusive co-publishing imprint with Shinshokan Publishing), DH/DMP (a co-publishing venture with Dark Horse Comics), Project-H (its Seinen Hentai manga imprint), and DMG (a unique digital distribution initiative).
For more information about Digital Manga Publishing, visit
www.digitalmanga.com
as well as:
www.dmpbooks.com
www.junemanga.com
www.digitalmangaguild.com
www.emanga.com
www.projecth.xxx
Follow us on twitter @digitalmanga
Find us on Facebook: Digital Manga Inc.
---