Anime Expo Welcomes Kick-Heart! Director Masaaki Yuasa as Guest of Honor for AX 2013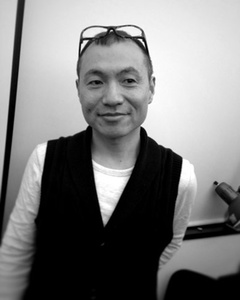 LOS ANGELES, CA, May 28th, 2013 –
Anime Expo proudly welcomes Kick-heart! Director Masaaki Yuasa as a Guest of Honor for AX2013, where he will be presenting the North American premiere of the Kickstarter-funded project. Mr. Yuasa has been involved in many notable series such as Crayon Shin-chan, Hakkenden, My Neighbors the Yamadas, and Samurai Champloo, leading up to his directorial debut with Mind Game—the Winner of Best Film, Best Director, Best Script and Best Animation Film for the 2005 Fantasia Festival in Canada.
His other credits include Kemonozume, Kaiba, and The Tatami Galaxy.
Mr. Yuasa's work plays with themes of slapstick comedy and human drama. His drawings at first glance may look unorthodox, but this intentional style becomes very dynamic and expressive when they are brought to life using hand-drawn animation.
Director's statement on Kick-heart!
"Lately I've been feeling that filmmaking has become a bit rigid. Aiming for an easy hit by making it very orthodox and simple is good and something I shouldn't disagree with, but as soon as you go outside of that rule, I'd be told, "Wait a minute, you're stepping outside of the line," or "What are you doing? You won't make a hit." I'd wonder, "isn't there a more fun way to do this?"
The main character of this show is a wrestler. He's got the physical strength but no opportunities or elegance; thus, he's making a living by competing in a very minor league. Then one day, while being under pressure from a popular league, he meets an extremely strong and unique female wrestler. That's what ignites the fire in him.
He is a masochist. And the female wrestler he meets happens to be a sadist. Suddenly, his life blossoms. He uses his special talent as a charm to mesmerize the audience. The more pain he feels, the happier and mightier he gets. The stronger the opponent, the better he performs.
He's a hero who turns pressure into power. The unconventional concept and character development are far from being mainstream, however, I feel that his presence (character) could provide power and courage to the people living in stressful societies.
Overall, it's a silly story, but I've got ideas to develop this into a bigger show and hope that you will all enjoy this pilot film which talks about how the hero originates."
Anime Expo is thrilled to welcome Director Masaaki Yuasa as a Guest of Honor to AX 2013, where attendees can connect with their favorite artists, voice actors, and musicians from Japan, display their amazing cosplay and other artistic creations, and enjoy the best in Japanese anime and pop culture. Connect. Create. Culture. All at Anime Expo 2013!
---