June Issue of the World's 1st Digital Manga Magazine Comicloud on Sale Soon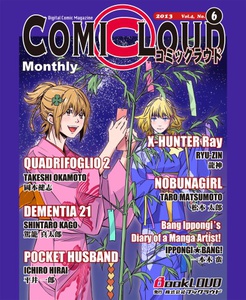 BookLOUD Inc. simultaneously releases the June issue of Monthly
COMICLOUD (Vol.4, No.6)
—the world's first digital manga magazine that entered publication in July 2010—
worldwide on June 28, 2013
for the Kindle Paperwhite, Kindle Fire/Fire HD/Fire HD 8.9" and Android.
Product Details
Title: COMICLOUD Vol. 4, No. 6
Genre: Digital Manga Magazine
Specs: Monolingual English & Japanese editions
Pages: 94 pages
Price: US$4.99
Cover illustration is made by Takeshi Okamoto. "QUADRIFOGLIO 2"
Hit Manga Series!


QUADRIFOGLIO 2 by Takeshi Okamoto
As Yotsuba and Koji's race is reaching its climax, Tatsuya and Chloe manage to show up. Tatsuya finds Jiro at the starting line and tries to make him call off the race... In this episode, Jiro talks about how he met Koji and what his true purpose is... Will we find out why he's targeting Yotsuba? Don't miss this installment of QF2!
The books (Vol.1 - Vol.4) have been released.
DEMENTIA 21 by Shintaro Kago
Manga artist Shintaro Kago. Although he draws manga for Comicloud every month, the pay just isn't enough for a living. Then suddenly there are talks about turning Dementia 21 into an anime. Finally a story in Comicloud where Master Shintaro Kago bashes himself! And then there's Dementia 21... An adventure in a parallel world!
The books (Vol.1 - Vol.2) have been released.


X-HUNTER RAY by Ryu-zin
Don Kilmister has introduced Ray to Miabandul so he can help Ray infiltrate al-Dolbel's palace. Meanwhile, Maria is confined inside, but slips out of her room to find the Colonel. This story has been moving along so many parallel lines: Al-Dolbel's palace, Ray, Maria, Miabandul... And now they're all coming together in shocking fashion!
IT'S BANG IPPONGI' S DIARY OF A MANGA ARTIST by Bang Ippongi
This chapter is about high-school girls taking playful photos with their cameras. Bang-chan introduces you to the world of cheat shots full with aspects of the Japanese otaku culture. Today everybody can express themselves freely. The times surely have changed! However, the origins of all kinds of play have been the same in the past and present.
POCKET HUSBAND by Ichiro Hirai
Michiko has lost her dear Rintaroh, but the kind train conductor has come to help her...or has he? We learn just what Pierre and his goons are up to! Meanwhile, Francoise is putting her own plan into motion. Rintaroh's not out of the woods yet!


NOBUNA-GIRL by Taro Matsumoto
Kakura took over the body of the village headman's daughter and started to control the villagers by posing as their savior. What will Azuba, who turned himself in, do now? A new swordmaster appeared. And she's so strong even Azuba fears her. Every enemy is stronger than the last! Will Azuba be able to defeat Kakura?
Official Website
http://www.comicloud.net/
About BookLOUD Inc.
BookLOUD Inc. is dedicated to spread the excellent Japanese entertainment content around the globe! We are Japan's first digital publisher aiming to offer a new place where people can engage in social communication through e-books.
About COMICLOUD Android Edition
COMICLOUD Android edition is generated with Androbook.(
http://androbook.net/
)
"Kindle" and "Amazon Kindle" are registered trademarks of Amazon.com, Inc. (USA).
"iPhone" and "iPad" are trademarks of Apple Inc. (USA).
"Android" and "Google Play" are registered trademarks of Google Inc. (USA).
©2013 BookLOUD Inc. All rights reserved.
COMICLOUD Vol.4, No.6 2013.Copyright 2013 by BookLOUD Inc., All rights reserved.
No part of this letter may be reproduced or retransmitted in any form or by any means without the written permission of the copyright holder.
---