MangaGamer Announces Release of Demon Master Chris
October 31st, 2013--We at
MangaGamer
are proud to announce our release of Demon Master Chris!
Demon Master Chris marks the first commercial release by Nyaatrap, a European and Japanese Development team.
The game is a fun little dungeon crawler where you play as Chris, a mage who tried to summon the Overlord Leviathan, but failed and found herself summoned to the Demon Realm instead. After escaping Leviathan's clutches, Chris is now trying to find her way back home, but the only way to do that is gather a force of monster girls and demon girls to her side and force Leviathan to submit to her control.
With an all-female cast and plenty of yuri action, we're sure this'll be a game for lots of people to enjoy!
Demon Master Chris
Demon Master Chris is a 3D Dungeon RPG about Chris, a conjurer who's gotten lost in the demon realm. Follow her as she fights demons, strips them down, and turns them into her companions while trying to avoid lesbian rape and escape the dungeons.
But the conjurer Chris doesn't fight with her own power alone. She wears different outfits imbued with mana, changing the powers available to her, and she's able to form contracts with the demons she encounters, allowing them to fight alongside her as minions.
The game system focuses on simplicity and speed, doing away with MP. Instead, your current balance—AP(Agile Point)—changes which actions you can take, allowing you enjoy battles rich with fast-paced strategy and variation.
Most of the H-scenes are forced events that occur regardless of battle results. She'll get teased by fingers, vibes, tentacles, and other sorts of things.
Demon Master Chris
Manufacturer:
Nyaatrap
Genre: RPG
Price: $14.95
OS: Windows XP(32bit), Windows Vista(32bit), Windows 7(32bit), Windows 8(32bit)
Text Language: English
Age Rating: 18 and over
ABOUT MANGAGAMER.COM
MangaGamer.com is the world's first legal download site for English translated Visual Novels. Since its launch in July 2008, it has offered services where fans can download and enjoy popular Visual Novels such as
minori
's
ef -a fairy tale of two
and
OVERDRIVE
's
Dengeki Stryker
right from their home. Don't forget to visit us on
Facebook
and
Twitter
!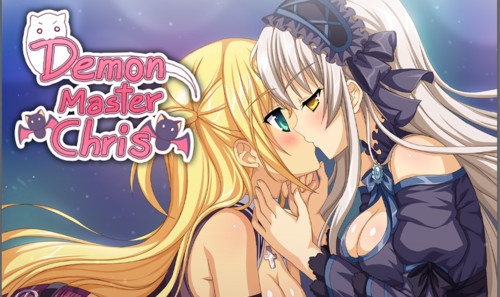 ---