Right Stuf, Inc. Announces Hetalia Axis Powers Manga, Volumes 4 & 5
GRIMES, IA, October 30, 2013 —
Right Stuf
, Inc. is pleased to announce that volumes 4 and 5 of the
Hetalia - Axis Powers manga
will be available on
December 10, 2013
.
Thanks to a special arrangement with
TOKYOPOP
and Hetalia's Japanese publisher
Gentosha Comics
, the first print run of these books will include an eight-page color insert. Once the initial print run sells out, the volumes will be transitioned to Right Stuf's print-on-demand program.
Hetalia - Axis Powers, created by
Hidekaz Himaruya
, started as a Japanese web comic. It utilizes personification to represent countries and their participation in historical events, while poking fun at cultural stereotypes. It was later adapted into a manga (released by TOKYOPOP) and an anime series that is currently available to North American audiences on DVD and Blu-ray from
FUNimation Entertainment
.
The first three volumes of the Hetalia
manga
are available now. Volumes 1-5 can be ordered exclusively through
rightstuf.com
. For more information about Hetalia - Axis Powers, visit
hetalia.rightstuf.com
.

*
Cover Art
: http://outgoing.Right Stuf
.com/sleeves/9781570321504.jpg
* To view this image, cut and paste the URL into your Web browser.
About HETALIA AXIS POWERS VOLUME 4
:
Time for more Hetalia W Academy!
The newspaper club over at W Academy is doing their yearly feature on school clubs, but all the clubs are really weird!!! Belgium and the Netherlands explore their odd relationship and the Netherlands helps Japan get out of a bad rut. Things get strange when Estonia dreams that all the countries are beautiful girls...except him! Is it a dream come true or a true nightmare? And will Italy ever be able to design a decent tank?
Learn why this light-hearted, adorable satire of world events has made Hetalia - Axis Powers a multiple New York Times Manga Bestseller!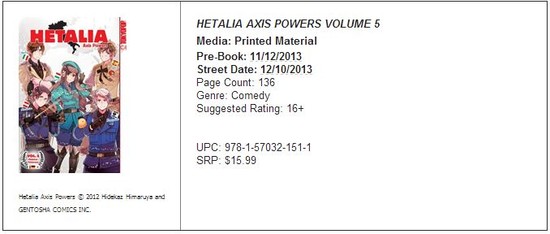 *
Cover Art:
http://outgoing.Right Stuf
.com/sleeves/9781570321511.jpg
* To view this image, cut and paste the URL into your Web browser.
About HETALIA AXIS POWERS VOLUME 5:
Who's the strangest country of them all???
Everyone's favorite countries have gathered together to compare notes on who has the weirdest horror movies, who had the worst World War II rations, who has the wackiest laws on the books, and which stereotypes about them are actually true! The heat is on when China must fight to win over Hong Kong by wearing kigurumi!?!? Germany and Prussia sneak into America's camp with hilarious results!
See why these crazy countries and their hilarious commentary on world history keeps putting Hetalia - Axis Powers on the New York Times Manga Bestseller list!
About Right Stuf, Inc.
Founded in 1987, Right Stuf, Inc. is amongst North America's largest publishers, distributors and retailers in the anime and manga marketplace. One of the industry's original pioneers, Right Stuf operates a multinational mail-order catalog and one of the trade's most recognized Internet storefronts,
rightstuf.com
. Right Stuf also works in a variety of media vehicles that include video streaming, podcasts and special publications. Included under the Right Stuf corporate umbrella is print publisher,
Right Stuf On-Demand
, and video production labels
Nozomi Entertainment, Lucky Penny
and
5 Points Pictures
.
Visit
www.rightstuf.com
for additional information.
ABOUT TOKYOPOP
Founded in 1997 by filmmaker and entrepreneur
Stu Levy
,
TOKYOPOP
established the market for manga in North America and introduced the term to the English language audience in the process. Over its history, TOKYOPOP has published over 3000 books; distributed anime and Asian films on home video and television; licensed merchandise to consumer goods companies; created graphic novels of major brands and led the way digitally in social media, e-commerce and user-generated content. TOKYOPOP's brand expanded internationally with offices in Europe and Japan and a network of over 160 partners in more than 50 countries and 30 languages. Through TOKYOPOP, Levy has produced live-action and animated film and television content based on the company's extensive intellectual property library, including
Priest, America's Greatest Otaku, Van Von Hunter
and a slate of projects currently in development. Visit TOKYOPOP's Asian Pop Culture newsletter at
www.facebook.com/tokyopop
or follow at
www.twitter.com/tokyopop
.
---