×
remind me tomorrow
remind me next week
never remind me
Subscribe to the ANN Newsletter • Wake up every Sunday to a curated list of ANN's most interesting posts of the week.
read more
Shelf Life
Lions and white radishes
by Bamboo Dong,
Just recently, I whipped out my old
Otaku no Video
DVD and the thought occurred to me—oh wow, I love this show. The actual scenes are hysterical and the Portrait of an
Otaku
sketches are awesome, especially that old guy with the computerized girlfriend. As I was watching, I thought to myself, "Wow,
Gainax
rocks my world. I don't think my life would be the same without those guys." This led me to another thought. Every time Gainax releases something with gratuitous
fanservice
and random excuses for sex-driven humor nowadays, people complain about it? It seems to me that that's what they've always done (okay, not always, but a lot). Even in series stuff like Eva and stuff, they had fanservice and released smutty merchandise (and still do). Gainax was made by a bunch of fanboys who are proud to be fanboys, and if they want to draw breasts, well then I hope they draw them until they all have nosebleeds. I love Gainax, and I will always love Gainax, even if I don't derive any pleasure from looking at female body parts. I haven't found a reason to complain about any of their releases yet, and don't plan on doing so anytime in the near future. So hey, here's to Gainax, here's to all the robots in the world, here's to all the angsty school kids, here's to all the guitar players, here's to all the lions and amulets, and here's to all the breasts.
Shelf Worthy

.hack//SIGN Vol. #1: Login Special Edition
Bandai Entertainment 125 min. 1/6 $64.98 03/04/2003

I know many people who buy DVDs just for the extras on the disc. If that's ever a factor in your decision on whether or not to purchase a DVD or a limited edition box, then you have more than enough reasons to buy the special edition release of .hack//SIGN. Before I even talk about the series, I just want to gush over the contents in the special edition—DVD, CD soundtrack, PS2 demo, stickers, postcard set, Grunty plush, T-shirt… sheesh. That's a hell of a nice package. But enough of the materialistic aspects of this release—let's talk about the series. To be honest with you, I was only mildly interested by the first episode, but as the series progressed, I grew more and more intrigued by the events that were happening. The story starts out simply enough with a character named Tsukasa who is unable to log out of the game and is stuck inside "The World," the world in which the game takes place. While this premise is interesting enough, the story only gets more complex from there. Mysterious characters, hidden ambitions, a shrouded past, dangerous real life ramifications—the story is amazingly complex and gets pretty intense in just four episodes. In the effort to make the atmosphere as similar to an online game, though, there were times when I felt like I was watching someone play EverQuest, which dulled down the mystique of the series. It would have done me much good to not see characters talking about meeting people "IRL" or talking on the "BBS," but that's a matter of personal preference. Of course, I'm just nitpicking, because we all know that phrases like that are supposed to be there since it's supposed to depict a real game. Other than that, .hack is pretty engrossing. The animation is flawless and the characters are fun to follow. The music is superb, and though the ending theme gets played more than I would like it to, the mood of the series is really enhanced by the chanting and orchestrations in the background. .hack is, without a doubt, one of the most anticipated releases of the year, and it's easy to see why. The least you could do is check it out.


Fancy Lala Vol. #5
Bandai Entertainment 100 min. 5/6 $24.98 03/04/2003

This is one of my favorite magical girl shows by a far mark. The reused animation sequences are kept to a minimum and only occur during LaLa's transformation sequences, which are kept fresh by a layer change of clothing. To make it even better, the story is always unpredictable and doesn't follow the normal magical girl trend of patterned episodes. This week will mark the release of the second to last volume of the series and if I'm not exasperated with the series yet, then that says to me that in my opinion, this is a really good mahou shoujo show. In these episodes, the viewer gets to learn more about LaLa's sister, as well as her background. Knowing how much of a characterization fiend I am, this is definitely a huge plus in my book. Also, Fancy Lala's identity is about to get exposed, which makes for a series of fun hijinks. The music remains cute and though it doesn't particularly stand out, it gives the series a fun feeling. If you've ever liked magical girls then this is the show to beat all shows. I'm telling you, this is good stuff.

Rental Shelf

Neo Ranga Vol. #1 (also w/Box)
ADV Films 120 min. 1/? $29.98/39 03/04/2003

This disc has one of the worst back of the box descriptions I've ever read in my life. "As Neo Ranga goes on his rough-and-tumble, crush-and-crumble romp through the city . . . is he just a big boy out for a good time?" I can't get over what a stupid description that is. Alas, I digress. Neo Ranga is a god type robot thing that's awoken from some island off some coast. He goes to Japan to track down three sisters who are striving to set up a life for themselves after being left alone in the world. Somewhere along the way, we get to learn who the god really is, more about the girls' families, as well as see some giant robot versus army action. This series is pretty interesting, actually, as it starts out rather abruptly, but fills everyone in with thoroughly fascinating flashbacks that flesh out the story rather nicely. The music is eerie and fits the semi-exotic, semi-mysterious mood of the series well. It's definitely not your cookie-cutter giant robot show. In fact, I can't really place this series anywhere, but hey, if you like giant robots, cute girls, and stories about family ties and exotic places, this one is for you.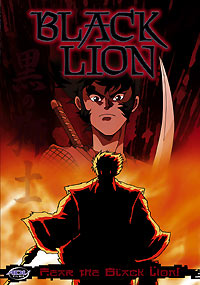 Black Lion: Fear the Black Lion
ADV Films 50 min. 1/1 $24.98 03/04/2003

Boy, Go Nagai doesn't stop making weird stuff, huh? Black Lion is one of those OVAs that make you wonder how he ever pulled off what he did. Ridiculous ADV DVD title aside, Black Lion is… well, it's rather hard to explain without sounding crazy. It's set in 1580, back when people fought with swords and sticks and stones and stuff. Enter this ultra powerful army which has like, missiles and machine guns and "lasers." Even with all this highly anachronic technology, their most powerful weapon is a ninja with totally real ultimate power. The main character gets sent on a mission to kill this invincible ninja before he goes and kills the whole town. Oddly enough, this OVA is pretty fun to watch in a crazy Go Nagai-esque way. Basically, if you like Go Nagai and his bizarre and grotesque way of doing things, you'll get a huge way of this. If you think he's a nutcase, which no one would blame you for, then this might not be the best thing for you. It's at least worth some unintentional humor what with 1500s people having lasers and missiles.


Dragon Ball Z TV Box Set 6: Imperfect Cell
Funimation Productions $54.95 03/04/2003

Is it just me or is one of these released every week? Well, for all of you DBZ fiends, then this is probably heaven for you. This week's release is the Imperfect Cell collection to match your Perfect Cell collection and let you have fun with some androids. Over the years, I think Funimation has drastically matured, and their faithful releases of the Dragon Ball franchise is showing it. No longer are they the company that everyone thinks is cool to make fun of. Bilingual Dragon Ball Z? I never thought this would be possible back in the day. Granted, I've never been a fan of DBZ, but I have to give this release a fair shake. If you liked this chunk of episodes, then there's absolutely no reason why you shouldn't check this out and maybe add this to your collection. Remember, Funimation is the good guy now.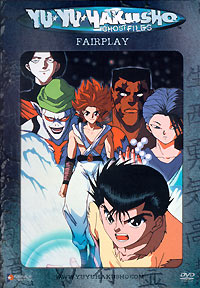 Yū Yū Hakusho Vol. #11
Yū Yū Hakusho Vol. #12: The Rising Storm
Funimation Productions 62 min. 11/12/? $24.95 03/04/2003

Yū Yū Hakusho is one of those really long series that can stay exciting from the start to the finish and these episodes are no exception. In this volume, the Dark Tournament is still underway and Yusuke must do all that he can to win. If you missed this on Cartoon Network, then this is definitely one to at least rent. The 12th volume is particularly interesting as you get to see Yusuke try to use his Spirit Wave for the first time. One thing I've noticed about his attacks is that every single one gets cooler and cooler, so this is one that can't be missed. If you decide that you like these episodes and want to collect the series, never fear. All of the episodes out now or in the future are guaranteed to be in a boxset sooner or later.

Perishable Items

Samurai Shodown: The Motion Picture
ADV Films 80 min. 1/1 $19.98 03/04/2003

Did you ever play this at the arcade? It's pretty fun. Did you ever see this movie when it was out on VHS? It's pretty bad. You know how during the opening sequence of a game when it's waiting for you to put quarters in it, it'll have a few screens that tell you the story of the game? That's pretty much all the story in the movie. For those of you unfamiliar with the game, let me enlighten you. There were originally seven Holy Warriors. One of them runs off and turns into an evil traitor type person. Now you have six Holy Warriors. You can't have one evil guy running around making the world sour, so what can you do? Bring out your best Holy Warriors and try to pummel his ass. Along the way, abandon all character development, background story, and emotion and there you have it. You'd think that at the least the fight scenes would be cool, right? Wrong. The fights don't flow at all, since they're interrupted by still frames that really cut into the scenes. If you really want some good old arcade style fighting, go to the only place you can find it. The arcade.


Tsukikage Ran Vol. #4
Bandai Entertainment 75 min. 4/4 $29.98 03/04/2003

When I first saw this series a few years ago, I was not impressed. Back in those days, I thought it was a cheap rip of all samurai series and was nothing compared to my beloved Rurouni Kenshin. Years later, I have a much more objective view on things and I try to avoid blanket statements as much as possible. I watched Tsukikage Ran again. It's still bad. The problem with this series is that it has virtually no story whatsoever. Oh yes, each episode has a semi-plot of some kind, but there is no overarching story. The characters stay the same throughout the entire series, and even though there were signs of life in the third volume, all hopes were dashed by this release. After all these years nothing has changed. The only thing that has been altered is that I now know that the series is trying to be like samurai series in a parody-ish way. It pays homage to Kurosawa films, but it's just done in such a horribly dry way it loses all potential chances for humor or greatness. It's not funny. It's just sad. Actually, I have a correction. The series is funny, but in an unintentional kind of way. So it's still sad. Folks, with all the other good stuff out this week, please be rational. If an episodic, pointless, scene to scene driven plot invigorates you, at least be kind to yourself and don't go beyond a rental at first.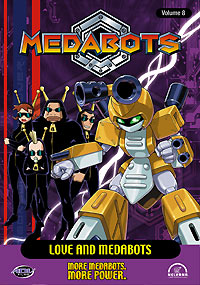 Medabots Vol. #08
ADV Films 100 min. 8/? 19.98 03/04/2003

This volume has decided to bust out the cute and smack us over the head with cute things until you want to gauge your eyes out. Love bugs on the loose, zoo trips with Medabee and animals stuffed with penguins… it's probably the cutest set of episodes I've ever seen in Medabots. The downside? Well, unless you have a kid that's infatuated with this series, it really isn't worth your money. I mean, yeah, it's cute and stuff, and it's brainlessly fun, but come on. Watch this on TV and treat yourself to something else this week.

Well there you have it—this week's Shelf Life. You've probably noticed by now that there are actually no Gainax releases this week. That's okay; my original statement still stands. Oh, and for all of you out there that ever wonder where I get my seemingly pointless titles, believe me, there is a point to them. You just have to look below the surface. While you mull over the anime shelves this week, remember not to spend too much money because a whole truckload of anime still awaits. Until next week then, have fun!
---