×
remind me tomorrow
remind me next week
never remind me
ANN Reader Survey • If you haven't had a chance yet, please fill out our annual survey, It's so helpful to us. As a thank you for filling out this massive survey, we're giving away 100 ANN subscriptions to people who fill it out.
read more
×
remind me tomorrow
remind me next week
never remind me
Subscribe to the ANN Newsletter • Wake up every Sunday to a curated list of ANN's most interesting posts of the week.
read more
Shelf Life
Gettin' Jiggy wit it
by Bamboo Dong,
After my long absence from Shelf Life, I thought that perhaps it would have been fitting to start my column with some sort of introspective glimpse into the long hours of soul-searching (read: midterms) that I had stumbled across. However, that would have been painfully dull. So instead, I hail to you from Uniondale, New York, perched comfortably in a hotel next to the Nassau Memorial Coliseum. Doing what? Duck hunting, of course. The Mighty Ducks of Anaheim, that is.
After checking into the hotel, my friend and I caught a glimpse of who we thought was Mike Babcock, the head coach of the Mighty Ducks. We had to make sure, so in the stealth of the night, we hit a lucky break and found a chatty concierge who was willing to tell us that indeed, "Yes, the Anaheim Mighty Ducks are definitely staying here tonight." In the morning, we glimpsed the aforementioned Mr. Babcock and imparted our wishes of good luck to him. To our surprise, he came over and chatted with us for a bit before sitting down on the opposite side of the lobby. And then we saw him. Jean-Sebastien Giguere—last year's Conn Smythe winner, and one of the best goaltenders to ever grace the NHL, next to my own favorite team's Patrick Roy, may he enjoy his retirement. We were in awe. As he sat down to talk to his coach, we were able to catch strains of their conversation, as Jiggy implored Babcock to let him start the game, something the coach refused, which proved to be costly in hindsight. Our starry eyed enjoyment of the weekend only continued when Babcock saw us later and called out, "Hey guys, enjoy the game!" Unfortunately, the Ducks went on to lose the game against the New York Islanders, 4-1, but the experience was certainly one to never be forgotten. I talked to Babcock, and basked in the presence of J.S. Giguere. Had it been an Avalanche game and had it been Peter Forsberg, I would have, as they say, "sh*t a brick" in awe, but seeing a man whose goaltending skills I admired so much (and yet whose name I took forever to learn how to spell) still sent me into a happy daze.
Believe it or not, this entire story had a point. A friend of mine recently told me that heroes and role models were unhealthy for society, forcing people to admire someone else instead of concentrating on attaining their own goals. I certainly don't think this is true at all. People need to live for themselves, no doubt about it. But knowing that someone you admire is just as human as you (Giguere... was eating... a bagel.) is certainly fodder enough to make you realize that virtually nothing is outside of your grasp, and if you work hard enough, you can someday be the bagel-eater in someone else's star struck life. So eat that, my friend. Jiggy's real, and he's livin' it up.
And with that, welcome to this week's Shelf Life.
YEAH, I SAW GIGUERE.
Shelf Worthy

Boys Over Flowers Vol. #02: Cinderella for a Night
Viz, LLC. 100 min. 2/? $24.98 11/04/2003

What good are flowers if you don't have a boy to go along with them? What good is a shoujo anime collection if you don't have Boys Over Flowers? I thought so. Delivering the same well-crafted teen angst and drama as the first volume, the second DVD continues to explore Tsukushi's emotional journey. Unlike most teen romances, the series presents a bitter-sweet portrayal of unrequited love and heartbreak—feelings that almost everyone has experienced at one point or another in their lives, making it all the more realistic. Shizuka, the beautiful girl who once captivated the heart of Tsukushi's crush, is finally leaving for Paris. Before she leaves though, she gives Tsukushi a helping hand by making her the prettiest girl at Tsukasa's exclusive party. As the magic of the night grows, she's hoping that her Prince Charming will come to her, but when the spell's broken, the reason why is big enough to throw the series into a huge twist. Even in the second volume, the series is packed with emotions and laced in sadness. From the gloomy music to the bleak art, every crevice of the show screams a level of seriousness and graveness that everyone who has ever been a teenager will immediately recognize and understand. If you plan on calling yourself any kind of shoujo fan at all, this needs to be on your shelf.


s-Cry-ed Vol. #3: The Other Side
Bandai Entertainment 125 min. 3/? $29.98 11/04/2003

Tried to run, tried to hide; Break on through to the other side! The characters certainly break a barrier in the third volume of s-CRY-ed, and damn, it's a cool one. As Kazuma and Ryuhou duke it out in the Lost Ground, an earth-shattering phenomenon is created, taking them to the Other Side—the birthplace of all Alter powers. Think Eva's Second Impact, except with Alters instead of Aliens, and no latex-clad children. After this Big Bang of sorts, the series fast-forwards eight months into the future with a few of the characters on the search for Kazuma and Ryuhou's whereabouts. Marking the halfway mark of the series, it also marks the end of the first arc. While the first bit focuses heavily on Kazuma's struggles with HOLY, the second half of the series zooms in on the questions of what the Alters really are. This is just the thing that will keep the series pumping strong. If you liked the first half of the series, you'll love the second half, no doubt about it. Simply put, this series kicks ass.

Rental Shelf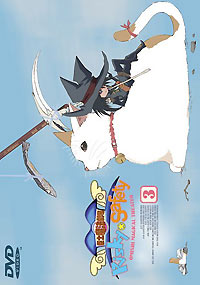 Risky Safety Vol. #3
AN Entertainment 80 min. 3/3 $29.99 11/04/2003

With anime, size does matter and sadly, Risky Safety isn't nearly long enough. A lot of fun story angles are presented in the series, but there's never enough time to explore any one of them fully. The final volume is no exception. Comprised of mostly sideliners, the episodes play around with a load of ridiculously cute things, like how Safety once befriended a cute little monster, how the equally cute Pomeranian Lani falls in love with the two spirits... it's just a shame that they had to be rushed to make way for the final episode. Hitting up the high drama, Moe and Yuya have tumbled into the hands of fate, a force that's itching to tear them apart. While the show truly reaches the climax here, time constraints get pushy again and the ending ends up being cluttered because of it. Still, this is a fun set of episodes and I'm truly impressed by the effort that AN Entertainment put into their first release. Definitely rent this one if you're looking for a chuckle.


Original Dirty Pair: Flight 005 Conspiracy
ADV Films 50 min. 1/1 $19.98 11/04/2003

Dirty Pair fans, rise up and let me hear your screams of joy! After its initial US video premiere in 1990, Flight 005 Conspiracy is now being released on DVD and it's about damned time. It's a bit on the predictable side, and it's certainly not the best anime OVA ever made, but for fans of the dynamic duo, this is something you can't pass up. Things get sketchy at 3WA when the Central Computer assigns Kei and Yuri two separate cases—at the same time! One of the problems deals with a mysterious space shuttle explosion, taking the lives of 300 passengers and every last trace of a paper trail with it. The other problem is the death of a brilliant scientist and his family. Packed with fun fight scenes and scantily clad women, the surprisingly serious tone of this movie is sure to appease fans of the series as they watch the two girls kick ass over and over again. With the age on this flick, it's no surprise that the art looks outdated too, but the dialogue is strong and the action is compelling. If you've never seen any Dirty Pair before, a rental of this disc may just be what it takes to toss you into the fandom. It's not a masterpiece work, but if you find yourself with any spare time this week, this is the perfect rental for you.


Please Teacher Vol.# 4: Hello Again
Bandai Entertainment 75 min. 4/4 $29.98 11/04/2003

When I first saw this show, I was very skeptical of its premise and viewed much of it with a heavy dose of cynicism. After all, a kid and his teacher hooking it up? That's gross! As the weirdness of this melted away, I was able to look deeper into the series and was pleasantly surprised at the nicely done ending. Kei is deep in one of his standstills again, giving him the Dick Clark syndrome that will make him look young forever. In the meantime, things are going down the crapper as Mizuho gets dragged away by the mother ship and gets punished for dinking around too much with her resources. As if this wasn't bad enough, the higher-ups are planning on erasing the memory of her from the minds of everyone she's encountered. Things really wind up for an emotional ending here, and even with all the panty-clad chicks and freaky-deaky relationships, the series stands its ground well. Whether you have a teacher fetish, or just want to see an earnest portrayal of hurtful romance, a rental of this short series will definitely be a good investment of your time.

Perishable Items

Love Hina Movie Box Set
Bandai Entertainment 250 min. 1/1 $59.98 11/04/2003

In Dante's Inferno, there's a passage that tells of a level of Hell where demons constantly defecate in your mouth. Little did I know that he was foreshadowing the Love Hina movie boxset where you, the consumer, are the poor Hell-ridden bastard, and the boxset is the demon hurling you loads upon loads of crap. Every now and then, you are allowed to take a breath of air, so you don't choke to death. That is the Love Hina Christmas Special, which is by far the best thing to come out of the Love Hina anime franchise. Don't get me wrong, I think the manga series is great and the TV series is entertaining, but frankly, this release isn't something you want to bundle in with your collection. The Love Hina movie set is comprised of three DVDs: the Christmas special, a heartwarming, emotional tale of love and friendship; the Spring Special, a safari into the realm of pointless fanservice, transparent storyline, and b00bi3z; and the three part OVA Love Hina Again. Yes. Again. I'm sorry, too. In the story, Keitaro finally makes it to Tokyu U, but in a stroke of bum luck, breaks his leg. While he's away with Seta on an archeological expedition, a strange girl moves into Hinata Inn to serve as the new manager. And here's where it goes downhill. She's not only supposed to be Keitaro's sister, but she has the massive hots for him and snoops on the Hinata ladies by feeling them up whenever possible. Combining a lousy storyline, extraneous pseudo-lesbianism, whiny female chauvinists, and boatloads of fanservice, this OVA was created for the sole purpose of providing boys under the age of 18 with the chance to masturbate to something else besides their mom's copy of Glamour, or whatever they have over there in Japan. Trust me, if you're a fan of the Love Hina series, do yourself a favor and pretend that the OVAs were never made. You don't deserve this kind of misery.

Alright, it's a bit late (read: really damn late), but eventually it'll stray back onto the right path again. Thanks for reading!
---