×
remind me tomorrow
remind me next week
never remind me
Subscribe to the ANN Newsletter • Wake up every Sunday to a curated list of ANN's most interesting posts of the week.
read more
Shelf Life
Jin and the Dragonauts
by Erin Finnegan,

My participation in high school sports feeds directly into my love of sports anime and my ultimately high rating of Bamboo Blade.
Likewise, my brother would not give The Last Wizard of the Century the time of day.
That's all for this week. Next week my personal schedule is completely changing, because of a daytime Japanese class at Japan Society. Hopefully I haven't forgotten all the kanji I learned last year. Cramming may be great for short-term memory, but it's bad in the long term.

This week's shelves are from Animaven:
"I never planned an anime/manga collection of this magnitude – it "just growed there" over the last quarter century or so. (I started with VHS tapes - anyone remember "Barney, the purple fansubs"?; had to replace the "keepers" when the technology changed.)
There are only a few figures – what you see here is about half the total.
With the exception of the large one in the white frame, over the lamp, which was made as a separate "art piece", the framed cels are All Production originals. The poster was purchased on a whim – it is for "Sailor Ranma" and says "In the name of Peace, Love, Harmony and All Things Sweet and Feminine, I Will Beat You to a Pulp". How could anyone pass that up?
If some of the DVD cases look small, it is because they are. (Zoom in a couple steps.) I have found that I can save a lot of space by transplanting DVDs to 'jewel cases'. The two-deep bookcases were purchased at the Nihonbashi store of Takashimaya. (Recommended!)"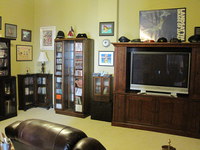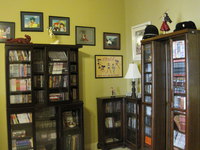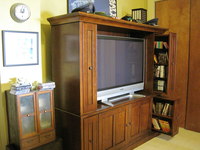 Not bad, huh?
Want to show off your stuff? Send your jpgs to shelflife at animenewsnetwork dot com. Thanks!
---
discuss this in the forum (57 posts)
|