Sound Decision
R.O.D
by Jonathan Mays,
Title:
Read or Die OVA Original Soundtrack
Artists:
Taku Iwasaki
Label:
Geneon Anime Music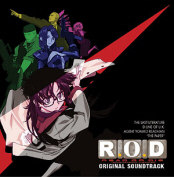 Release Date:
2004-06-08
Suggested Retail Price:
$14.98
Description:
It's do or die time in R.O.D. (Read or Die), an explosive, superpowered spy-tech action adventure, and composer Taku Iwasaki (Witch Hunter Robin, Rurouni Kenshin) carries out his mission of delivering a tailor-made soundtrack perfectly suited to this lights-out anime spy thriller. Included on the 14-track 'R.O.D Original Soundtrack' are definitive nods to the era of spy movies with the opening and long versions of the 'Theme of R.O.D.' along with an outstanding selection of instrumentals, ranging from light tones to
dramatic intensity, with subterfuge-inducing ambiance snuck in for good measure.
Track list:
1) In the beginning, roars the electric genius
2) Theme of R.O.D. ~ opening version ~
3) Those who insanely love books say, "Paper is always with us"
4) At a bookstore - run silent, run deep
5) Shudder! Shudder! More shudder!
6) Gentleman-like, all too Gentlemanly
7) Theme of stardust hidden in the interval of time
8) The evil wing of gale, that no one can catch
9) Unequaled boisterous dance, the sky is too small
10) A man playing in the west raises a pole at will
11) Suite for I-Jin (part I, part II, part III)
12) Bring all the wisdom to Great Britain!
13) Theme of R.O.D. ~ long version ~
14) Souls of the women rest for a moment, and thereafter...
Total time:
0:40:44
(Added on 2004-05-24)
This volume was reviewed in the Sound Decision column of May 25th, 2004.
---
back to Sound Decision - California Dreams
Sound Decision homepage / archives