The List
6 Up-And-Coming Female Voice Actors
by Lynzee Loveridge,

A few voice actresses have achieved the coveted "household name" status among fans. Maaya Sakamoto, Kana Hanazawa, Kikuko Inoue, Megumi Hayashibara, Aya Hisakawa, and Rie Kugimiya have established fan bases in Japan and abroad for their iconic roles throughout the years. Agencies continue to introduce new talent into the industry, but while most might get one or two major roles before disappearing into the background, others are lucky enough to land breakout roles. This week's list looks at a few voice actresses with promising futures in the biz.

6. Hisako Kanemoto Kanemoto first made an impression on American audiences in the fan-favorite series Squid Girl. The series, unfortunately, never got a full release stateside. Kanemoto, however, kept rolling. She pushed out a large body of work in just three years including signing on as Cure Peace in the popular Smile Precure! magical girl series. Her voice lends to spirited but down-to-earth characters like Amy in Gargantia on the Verdurous Planet, Haruka Kotoura in Kotoura-san, and Yui Kiriyama in Kokoro Connect.







5. Asami Seto Seto's first starring role was in the poignant slice-of-life series Wandering Son before landing the lead role in the regretfully unlicensed karuta anime Chihayafuru. After establishing her talent in two great, but decidedly niche series, Seto's has appeared in more and more mainstream series including Valvrave the Liberator and Magi. Her turn as the beautiful and strong witch Ayaka Kagari in Witch Craft Works is generating more fans for the actress.






4. Suzuko Mimori Mimori is arguably the most successful of the Milky Holmes idol group. She has crossed over into a wide variety of genres from sci-fi (Bodacious Space Pirates, Lagrange - The Flower of Rin-ne, Infinite Stratos 2), fanservice (Senran Kagura, Queen's Blade: Rebellion, Wanna Be the Strongest in the World), and shojo ( Hiiro no Kakera - The Tamayori Princess Saga, Kamisama Kiss). She landed a major role in the Love Live! school idol anime as Umi. The anime series, merchandise, and related CDs have been a huge success in Japan.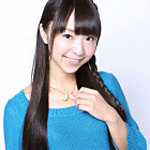 3. Izumi Kitta Kitta is another one of four members in Bushiroad's Milky Holmes unit. As the name suggests, she got her start with the Tantei Opera Milky Holmes anime franchise and other Bushiroad-related series. She broke away from the mold and gave a perfect performance as the series star Tomoko Kuroki in the awkward otaku comedy WATAMOTE. She's continuing to work on Bushiroad series, but if WATAMOTE is any indication of the different characters she can tap into, Kitta is an actress to keep your eye on.






2. Aya Suzaki Suzaki first starred as the chipper Tamako Kitashirakawa in Kyoto Animation's Tamako Market. While the series was popular enough to inspire an upcoming film, the actress really grabbed audience's attention in Trigger's Kill la Kill as scene-stealer Mako Mankanshoku. The comedic foil to Ami Koshimizu's Ryuuko Matoi, the character is equal parts energy and determination. The life that Suzaki breathes into the show has earned her more major roles in the upcoming Brynhildr in the Darkness, Daimidaler the Sound Robot, and Knights of Sidonia series.






1. Mikako Komatsu Komatsu's first major role was in Stan Lee and Bones' Heroman anime as main character, Joey. Despite its pedigree, the series never made it stateside. Komatsu kept busy with secondary roles in boy-targeted shows like Yu-Gi-Oh! Zexal until she landed her next big role as up-and-coming space pirate Mariko Kato in Bodacious Space Pirates. The series was popular in Japan and in the U.S. alike. Komatsu has continued to land roles in popular series since, including trained mafia hitman Seishirō Tsugumi in Nisekoi, Mutsumi in Noragami, and Miuna Shiodome in Nagi no Asukara. She's starring in three series this season alone and has a burgeoning singing career, too. The girl is busy.






The new poll: Let's turn this week's topic to you! Do you like more fresh-faces in your series, are do you prefer the tried and true favorites? Tell us your favorite Japanese and/or English VAs and their roles in the forums!
The old poll: The last poll asked what your favorite part of the anime fandom is (answers under 1% aren't listed):
Watching the shows, duh 59.1%
DVD Collecting 7.7%
Interacting w/ other fans 7.1%
Merchandise (figures, other collectibles) 6.8%
Conventions 5.8%
Anisongs 5.3%
Cosplay 4.8%
---
When she isn't compiling lists of tropes, topics, and characters, Lynzee works as Associate Editor for Anime News Network, blogs about women and LBGT topics in anime and manga on her blog Engendered Dilemma, and posts pictures of her son on Twitter @ANN_Lynzee
.
---
discuss this in the forum (49 posts)
|