The X Button
Flying Lessons
by Todd Ciolek,
You may have seen the latest iteration of Sega Hard Girls, a light novel (and soon-to-be anime) series which seizes on both nostalgia and modern anime by turning various old Sega consoles into chipper young heroines. I'm not going to complain about the whole idea. This is at least the third such enterprise to do this, after Hyperdimension Neptunia and those old Mine Yoshizaki illustrations, so there's no point in going on about how this sort of thing latches like a lamprey onto poor bedraggled Sega fans who just want to remember that their favored company's consoles once actually existed.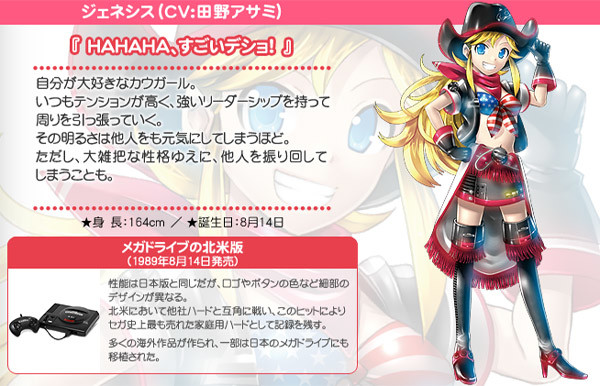 But I will complain about one of the new personifications of Sega history. As you can see, she symbolizes the all-American Sega Genesis, so she's a brash cowgirl! And that strikes me as lazy. It was amusing when Sega introduced Gemini Sunrise in Sakura Wars V, since she was an actual character in a pastiche of misconstrued Americana. She was also a samurai cowgirl, and thus a hybrid of two stereotypes. Genesis here is just a cowgirl. She's not even heavily armed! The least she could do is carry around eight different guns, a cheeseburger, and a science textbook that doesn't mention evolution.
NEWS
FREEDOM WARS IS A LOT MORE INTERESTING THAN ITS TITLE
Freedom Wars emerged last year as one of the more interesting projects in the Vita pipeline. It's a multiplayer action game with clear parallels to Monster Hunter, but it's set in the remains of human civilization several thousand years into the future. Subterranean societies recruit explorers by deeming certain people "criminals" at birth, hitting them with million-year sentences, and forcing them to work off their time by rescuing people from the above-ground ruins. This isn't particularly easy, since giant bio-mechanical creatures called Abductors roam the wreckage of the human world.
Freedom Wars draws in Dimps and Sony's own Japan Studio as developers, but it's most tellingly the work of Shift, makers of the Gods Eater Burst games. Freedom Wars boasts the same futuristic anime bent and post-apocalyptic landscape, and its characters are outfitted with firearms, bladed weapons, and a thorn-whip grappling mechanism. The hunts for monstrous Abductors can involve as many as eight players, each accompanied by an equally customizable android sidekick. Its approach to multiplayer hunts offers little that's new, but Freedom Wars looks to stand alongside Gods Eater Burst among Monster Hunter ripoffs that surpass their inspiration. That's reason enough to be glad that Freedom Wars is coming here this year.
ORESHIKA: TAINTED BLOODLINES ALSO HEADS WESTWARD
Sony also announced a North American release for Oreshika: Tainted Bloodlines, or Over My Dead Body 2 as it's known in Japan. The follow-up to a PlayStation RPG from 1999, Oreshika studies a family with a strange curse: all of the clan age rapidly and die, often while fighting in a war against an immortal puppeteer-sorcerer. Before they pass away, these warriors have to mate with various gods and create descendants to take up the fight. This is all handled with some restraint, as a priestess oversees a human and a god facing each other in wedding attire and spontaneously generating some half-deity spawn.
Oreshika has a pleasant, cell-shaded look reminiscent of Okami, and it allows plenty of customization in characters: snap a photo of your face, and your protagonist's features scale accordingly. Those looks pass down the player's family tree as various descendants arise and assume the roles of samurai, archers, and other foundational classes that evolve into more precise jobs. Oreshika has no release date yet, but it'll join Conception II in making the Vita the top destination for anyone with a narrow and fanatical interest in baby-making RPGs.
Sony's third big announcement on the Vita homefront is Soul Sacrifice Delta. Not quite a sequel to last year's grim action game, it sports better graphics, more online options, and a several new bosses grotesquely inspired by fairy tales. It also features a bunch of bonus costumes pilfered from Wild Arms characters. Could this be the new Wild Arms material that some series staffers hinted at last week? Sadly, I think it is.
HOW TO BUY DRAKENGARD 3
With Square Enix's uniquely hateful Drakengard 3 little over a month away, the publisher announced the last of its pre-order bonuses. If you reserved the game from Square Enix's website before March 3, you'll get the Japanese voice track for free. If you put down money before April 8, you'll get a costume pack based on Nier, the only good thing to come out of the Drakengard series so far. If you reserve it between now and the game's May 20 launch, you get…six PS3 themes featuring murderous heroine Zero, her pet dragon Mikhail, and her harem of the warrior disciples she earns by offing her sisters.
Yes, that's a pitiful carrot to dangle before buyers. The same goes for the bonuses available if you reserve Drakengard 3 at Amazon or GameStop, which gives you three costume color variations for Zero. I was hoping the pre-order thingie would be a little book of Kimihiko Fujisaka's art, which is pretty nice no matter what you think of this series. But hey, you can see that art on your PlayStation dashboard!
However, ordering the game from Amazon or GameStop means that you won't have to deal with Digital River, the notorious supplier that runs Square Enix's online store and still gets blamed for the fiasco that ensued with Bandai Namco's Ni no Kuni last year. The Drakengard 3 special edition is already sold out, so perhaps they haven't over-allocated reservations this time.
It's notable that Square Enix decided to offer Drakengard 3 beyond its own website. Some suspected that the company would limit distribution due to the game's potentially controversial tone. After all, it's about the divine songstress Zero slaying her fellow goddess-sisters in gruesome and comical fashion. But don't worry. Drakengard 3's many abuses will be easily available.
For a sampling of what awaits in Drakengard 3, you can read more of the characters' short-story profiles at the official website. You can even see their individual DLC side-quests translated if you poke around YouTube. I like Four best so far. But perhaps I shouldn't.
KICKSTARTER REPORT: THE CHAOS HAMSTER'S LIFE
CHAOS REBORN
Status: Unfunded right now, but pretty close
Ends:This Thursday
X-COM: UFO Defense holds a special place among PC games of the 1990s. If you went through that decade without a PC, just think of it as the computer equivalent of Final Fantasy Tactics, a strategy-RPG that just about everyone praises and holds in high regard. And just as Tactics creator Yasumi Matsuno fueled a Kickstarter earlier this year, X-COM creator Julian Gollop gets attention with his own Chaos Reborn.
Yet Chaos Reborn isn't really patterned after X-COM, which is a healthy enough series on its own. Gollop instead returned to his 1985 tactical game Chaos: The Battle of Wizards, a Sinclair ZX Spectrum title. In this revival, sorcerers battle it out with a wide array of spells and summonable creatures, and their duels involve bluffing, disbelieving illusions, and messing around with Law and Chaos. Like the original game, there's a heavy multiplayer aspect with co-operative play as well as free-for-alls, but Chaos Reborn also has a single-player mode where you can design your own realms and inflict them on others.
I'm by no means authoritative on the original Chaos, seeing as how my dualistic wizard-based '80s computer gaming was limited to the disappointments of Archon II. But the playable prototype looks sharp and has a bunch of options, and it's worth a try even if you don't remember Chaos or X-COM.
FLYING HAMSTER II
Status: Unfunded, with a long ways to go
Ends: May 4
Do you miss the days when adorable side-scrollers dominated the game industry? Do you pine for an era when a hero needed only a sword and shield, with no cutscenes or catchphrases attached? Do you ritually light candles and consecrate unspeakable oblations before an altar built of Wonder Boy in Monster Land cartridges? Then you'd like Flying Hamster II: Knight of the Golden Seed.
The original Flying Hamster is a side-view shooter, not unlike an all-animal Fantasy Zone, for the PSP, PlayStation 3, and iOS devices. The sequel is far more ambitious, and not just because it aims at every current console and handheld. Rodent hero Newton dons a suit of armor, and the game around him is a side-scroller of spacious forests, castle parapets, and towering bosses. It's very much in the fashion of Rocket Knight Adventures and the Wonder Boy/Monster World series, right down to Newton's shapeshifting. He can fly, stab, and spit seeds in his hamster form, but he also morphs into a powerful bear warrior, a snake that fits into tiny spaces (and looks a lot like the serpents from Golvellius: Valley of Doom), a somewhat useless pig, and a frog whose tongue can snatch away enemy shields and function as a grappling hook. With the exception of the grappling tongue, it's all straight out of Wonder Boy III: The Dragon's Trap.
Flying Hamster II also has the bright-colored look of a Monster World game. While the characters have that glossy texture you'll see in many, many iOS potboilers, it's charming stuff, from the galea-sporting penguin guards to the google-eyed frog boss. Developer Game Atelier has big plans for the game, and their Kickstarter currently sits at one-fifth funded. There's plenty of time left, though, so perhaps the fans of Monster World and other delightful classics will rally around Newton.
LAST LIFE
Status: Unfunded, but past the halfway mark
Ends: May 9
Ah, the challenges of a detective investigating his or her own murder. You can find it all across the hard-boiled spectrum—and even in video games like Shu Takumi's Ghost Trick and Square Enix's Murdered: Soul Suspect. It's the core of Sam Farmer's Last Life, an adventure game backed by the folks at Double Fine.
Last Life also draws on another sci-fi standard: the destruction of Earth. Eleven years after humanity's homeworld becomes a lifeless hellhole, the race survives in colonies throughout the solar system. Jack Parker is a detective on MarsTopia, where the yearly Dead Man's Party brings the colony's residents back to life in a 3-D printed form. Not into the revelry, Parker sets out to investigate his own murder, and he meets up with club owners, mobsters, and other humans living in the shadow of Earth's loss. Farmer aims for a tale about transhumanism and the toll it takes on identity; the characters are blocky, faceless individuals, yet they're all animated with distinctly human mannerisms. The gameplay preview includes plenty of caustic narration, plus a reference to bitcoins, which apparently survived the fall of Earth. It really is a dystopia.
Last Life's Kickstarter set a modest goal. This is only the first of three planned episodes, and it's slated for PC, Mac and Linux right now. Even its stretch goals are limited to the game itself so far, but perhaps they'll add support for the Vita, 3DS, and TurboDuo.
NEXT WEEK'S RELEASES
DEMON GAZE
Developer: Kadokawa Games/Experience Inc.
Publisher: NIS America
Platform: PS Vita
Release Date: April 22
Demons: Mostly female
MSRP: $39.99

Remember Students of the Round, a dungeon-heavy RPG released exclusively in Japan for the Xbox 360 and PSP? Well, you don't have to remember it if you want to play its sequel. Demon Gaze lies in the same timeline as Students of the Round, but it upholds the RPG tradition of unfolding thousands of years after its predecessor. You'll see some familiar monsters, but you can enjoy Demon Gaze fresh and innocent…well, you can enjoy it fresh, anyway.

Demon Gaze at first finds its hero, named Oz by default, arriving at an inn that's situated rather improbably in the heart of a cursed city-state called Mislid. Oz has the ability to tame the bizarre, half-machine demons that roam the land, and his gift wins him a few allies among the inn's residents. He regularly departs into the monster-filled stretches of the nation, accompanied by both customized party members and partly tractable demons. Demon Gaze is a dungeon hack to the core, with its first-person viewpoint, random battles, rigid challenges, and steady pace of reaping one small victory after another. Those victories aren't without cost, as an innkeeper named Fran charges Oz rent each time he returns.

This brings up the other half of Demon Gaze. Oz and his party get to know the inn's assortments of maids, necromancers, shopkeeps, and assorted nutballs through conversations that rely on the player's responses. And since this is a dungeon hack of modern influences, most of the characters are young women who think nothing of wandering the hotel in their underwear, neglecting to lock the bathing area, or heading out to battle in bikinis. Demon Gaze is clearly out to sell itself on two fronts, and it hopes to fill the gap between Etrian Odyssey games along the way.
---
---
discuss this in the forum (7 posts)
|
this article has been modified since it was originally posted; see change history
In anime, you often see people brewing coffee using unique, single-cup methods - are coffee machines just not that common in Japan? Justin's got the answer.
― Alvin asks: I noticed that in many anime series, characters are depicted brewing coffee either by pouring hot water over the grounds in paper filters or using instant coffee in homes and shops, including coffee shops. Are coffee brewing machin...
An in-depth look about what Vanquish and Bayonetta - newly resurrected in shiny PC ports - say about the legacy of the legendary company that birthed them, PlatinumGames.
― In certain ways, the story of PlatinumGames is a tragedy. Founded in 2009 by ex-Capcom developers whose credits include the likes of Resident Evil, Devil May Cry, and Okami, the goal of the new company was to escape that corporate...
Paul gets a faceful of '80s action with Crusher Joe and runs down all this week's new anime releases from Haruhi Suzumiya to Umaru-chan!
― After avoiding the bandwagon for as long as possible, I finally played a bit of Overwatch last weekend. I had some fun, I have a better understanding of why people love it, and holy moly I'm terrible at it. More power to anyone who has the reaction time and teamw...
The second season of this charming fairytale romance finally comes to Blu-Ray! Theron Martin details what makes this particular shojo adaptation so special.
― The second season of Snow White with the Red Hair aired during the Winter 2016 season, covering episodes 13-24. Given the firm declaration of commitment from Zen near the end of the previous season and Shirayuki's generally secure position as a...
Mike picks over the bones of the Hollywood Ghost in the Shell, catalogs the best adaptations so far, and wonders where live-action anime might go after this.
― This year's convention season is rockin' and rollin'. This week, I'm on show number three of 2017, enjoying the sights and sounds of Anime North up in Toronto. I come up to Canada for this show, and it's always an interesting time. I admire Ca...
Food Wars is still going strong as the Polaris Dorm gets ready to take on Azami Nakiri's corrupt new administration. Rebecca Silverman has the details.
― There is rarely a dull moment in Yuto Tsukuda and Shun Saeki's Food Wars! Shokugeki no Soma manga, and while there's a small breather between storylines of this volume, the action is as intense as ever despite the climbing volume numbers. This eight...
Being surrounded by sexy love interests might seem like paradise to some, but one fan's heaven is another fan's hell. Here are seven harems with no good apples to choose from!
― Harem anime is a well-established romance sub-genre, and while most incarnations these days put our hero into a magical world outside of his own, romance options have spanned trains, transforming soda cans, and potential lit...
UQ Holder's ninth volume makes the most of its prolonged training arc material. Nick Creamer weighs the pros and cons of Ken Akamatsu's latest series.
― UQ Holder has always been an inherently strange shounen property. With its focus on a team of heroes who are all gifted with some form of immortality, the manga has at time had trouble offering compelling opponents for its protagonists. And main char...
Could Netflix's influence solve the many production and salary woes plaguing the anime industry? Justin considers the angles.
― Earl asks: The trailer for the new Castlevania anime came out today and my coworkers and I were remarking on the animation quality. It's an American production (despite what I thought initially), but it got me thinking... Would Netflix-style contracts/production be a way ou...
From fearsome warriors to gluttonous goofballs, Attack on Titan's cast is filled with a variety of colorful female characters. Rose Bridges explains what makes its cast of ladies so unique.
― Spoiler Warning: This article contains spoilers for the Attack on Titan anime up through episode 31, and also vaguely alludes to events from the Attack on Titan light novel "Lost Girls." Since the first season's...
Zac, Jacob and special guest Gabriella Ekens stitch their brains together for a deep dive on the entirety of PSYCHO-PASS - both seasons (yes, both seasons) and the film.
― ANNCast Episode 297 - Psycho-Pass Zac, Jacob and special guest Gabriella Ekens stitch their brains together for a deep dive on the entirety of PSYCHO-PASS - both seasons (yes, both seasons) and the film! You can listen to the show...
Miss Hokusai demonstrates the power of articulating life as it is lived, presenting a rich portrait of both its historical moment and its charming heroine.
― The great painter Hokusai is one of the most famous and internationally renowned artists in Japanese history. Responsible for works as recognized as The Great Wave off Kanigawa (itself an element of the vastly influential 36 Views of Mount Fuji)...