Metropolis Special Edition DVD and T-Shirt Contest
Metropolis DVD and T-Shirt Contest
By way of their publicity company, mPRm,
Columbia Tristar
Home Entertainment has provided us with 5 copies of the upcoming Metropolis Special Edition DVD and 5 Metropolis T-Shirts for us to give away in a contest.
We'll be giving out 5 sets of 1 DVD and 1 T-Shirt.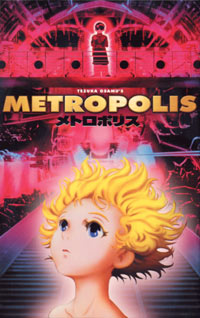 Metropolis Special Edition DVD

Metropolis T-Shirt
Our last contest was very easy, so we decided to make this one just a bit harder, a trivia contest with 40 questions about
Osamu Tezuka
and his creations.
Rules
Answer as many of the questions on the entry form as possible.
Entrants will not be penalized for incorrect answers - So guess if you don't know the answer.
Only 1 entry per person / e-mail address / household / computer, if we think you've cheated all your entries will be deleted.
Winners will be randomly selected from the correct entries. If there are insufficient correct entries to select 5 winners, missing winners will be selected from those who have the most correct answers.
Contest Closes March 15th.
Winners will be contacted by e-mail at the address they provide, they will have 5 days to respond, should they fail to respond alternate winners will be selected.
Small Text:
Anime News Network
reserves the right to cancel this contest at any time (won\'t happen unless something drastic happens). Contest is open to any and all residents of the planet Earth, however prizes will only be shipped within the continental United States and Canada (So if you win, but you live in Antartica, you have to arrange to have it sent to someone living in the appropriate area, and they can send it to you.) Contestant e-mail addresses will not be given out to any one and will be erased when the five winners have been confirmed, non-winners will not be contacted, spammed or harassed in any other way. We reserve the right to retroactively add new rules when and how we see fit.
---