SMASH! 2012
by Mark Sombillo,

SMASH!, the only one day convention in Australia has once again come and gone and we at Anime News Network were excited to attend. Indeed we couldn't wait long enough that we decided to go out of our way to come in on the Friday and conduct interviews of SMASH!'s guests (watch out for those to be published soon). Sydney offered up a weekend of unblemished weather and our day of rushed delight was shaping up to be better than last year.
We open the day bright and early as I had opted to volunteer for the free photo booth that SMASH! runs. As I reached the room, I found group of photographers, all well known in the Sydney cosplay scene, busily erecting the backdrop and checking the lighting setup. I wasn't rostered until later that morning so I meandered out to the lines outside to see the many eager fans waiting for the ticket stalls to finally open.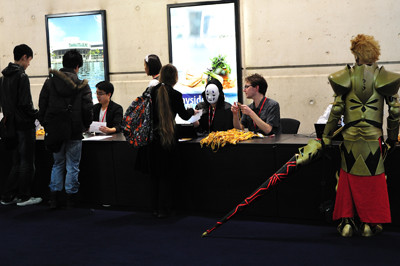 I headed out to the traders hall before it became packed. The setup this year is much the same as last year. The number of traders looked about the same and most were also familiar names. A couple of new ones are the stalls for cosplay photo books and ROMs, typically something that hasn't really been widespread in Australia and only more commonly attributed to popular cosplayers in Asia. Talks with the sellers indicate they were near sold out but I think it still needs to be seen whether this new venture for the hard working cosplayers in the country will continue to gather momentum.
One of the interesting things we encountered in the traders hall this time was the Gunpla Builders World Cup. Spread over two back to back walls were models of mecha that ranged from just slightly modified creations to original paintjobs and high quality builds. Our personal favourite in the whole exhibition would have to be the models of the miniature Gundams playing soccer. The attention to detail was just astounding and highlights just why this hobby is enduring to this day.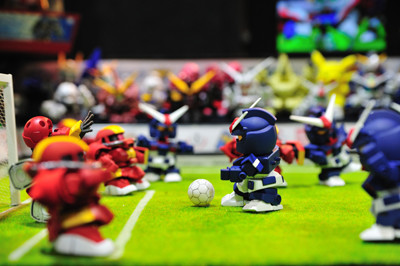 Meanwhile, Mel, one of our guest correspondents for the day arrived to the Karaoke competition. Those interested had to register previously online. Once registered, they were contacted to let them know when they were scheduled for the heats. Of course the contestants were only allowed to pick a Japanese song featured in either an anime or a game. Though she was a bit late, she was luckily given a bit of leeway and was able to participate in a very friendly judging panel which looked more like an audition than an actual karaoke bar. Winners in the heats were invited back later in the day for the finals.
On during the first half of the day were the panels by the special guests Yuko Miyamura, Sakura Tange and Shinichiro Miki. Possibly more than any other year before, the Japanese guests were definitely much anticipated and rightly so. With Yuko being the voice of the ever rambunctious Asuka from Neon Genesis Evangelion and Sakura as the protagonist and namesake from Card Captor Sakura we found the guest signing lines throughout the day spanning the corridors to a point where I might even suggest that it was a fire hazard. The Shin-ichiro Miki panel proved to be one of the highlights however as he went through a voice acting workshop that showed just why he is one of the most popular seiyuus in the business today.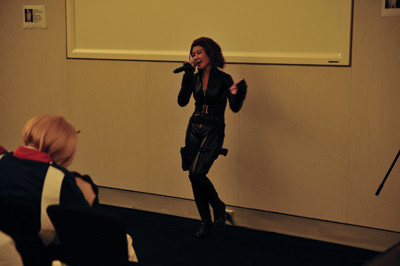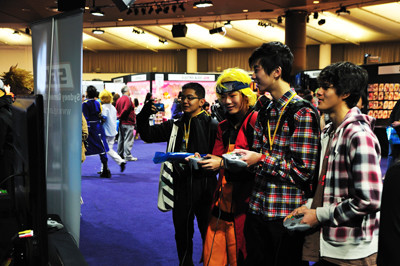 As the second half of the day unfolded, the cosplay competition arrived and the large main event hall brimmed with people wanting to see what awesome cosplays were set to appear on stage. Testing the generosity of the SMASH! judging panels, Mel and team registered for a slot in the cosplay competition despite actually not cosplaying as characters from an anime. Luckily there were a few drop outs and they managed to participate and experience the thrill of the stage firsthand.
The competition ran much like any other cosplay competition at most conventions. The stage had enough space for groups to perform our stunts and the non-slip carpet flooring ensured hassle-free movement. The MC was slightly repetitive and his enthusiasm, despite being great, was a little forced. However, the staff's organization and handiwork, backstage lighting and camera works was perfect and helped deliver an experience for cosplayers devoid of stress. Special congratulations to Mel for actually getting Judges Choice award for their performance.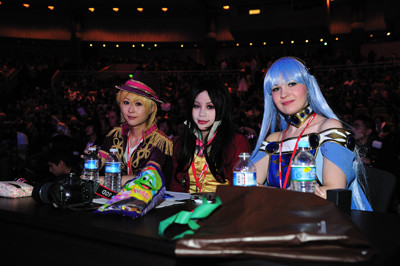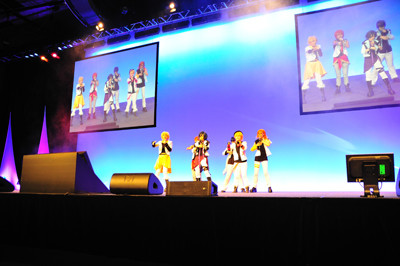 I was happy to have had an assistant covering another part of SMASH! as on at the same time was the AMV panel which I hosted for the first at the convention. I was given a slot at the arts room which doubled both as a drawing room and a theatre. Consequently there was always a steady stream of people coming through as I presented videos to a crowd interested in finding out just what makes AMVs so entertaining. At one stage I was a bit unsure whether people were there for my panel or for the art in the back but I choose to believe they got something good out of both at the same time.
What followed after was the AMV competition finals which showcased some brilliant videos. More videos were received this year than ever before which obviously meant a tough competition. This was essentially the last event of the day that we attended and after making another round at the traders hall and collecting autographs from some cosplayers whom we considered inspirational, we began to wind down for the day. For a final send off, as night enveloped Darling Harbour a fireworks display lit the skies and sealed in our minds that SMASH! was once again a successful convention.
Summary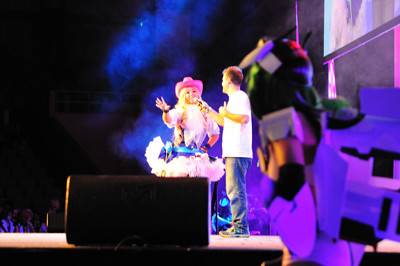 Once upon a time, special guests and commercialisation of conventions was a big taboo in the Australian scene. The conventions were always began as volunteer organisations and indeed most of them still are which gives the philosophy of "for fans, by fans" a whole lot of sense. However, more and more, the fans' appetites for brushing against celebrity has been increasing over the years and it has now become the big ticket item. SMASH was the first Australian convention to bring Japanese voice actors to Australia and followed it up with bringing the first Japanese director. This constant progressive nature has ensured that the event never became stale and indeed we believe would only continue to keep the convention-going population of Sydney, indeed the country from returning to the Sydney Convention Centre for more great times.
That said as we've exhibited by needing two on-the-ground correspondents operating at the same time during the day (as well as our separate interview team), it's perhaps more prudent than ever to point out just how hectic a one day convention is. It is true that putting everything into just one day means never having a dull moment but inevitably you will be forced to choose when faced with two (or more) events you'd like to see (I barely managed to make it to the Madman panel and we missed out on the Hanabee industry panel altogether). In the end, it goes hand in hand that continued improvement must require a larger timeslot and maybe one day SMASH! will have no choice but to return to being done in two days but maybe until then we'll just have to make do with this one day extravanganza.
Special thanks to Mel Wij for providing extra coverage as well as experiencing SMASH! firsthand for us.
SMASH! 2012 Gallery
---
discuss this in the forum (3 posts)
|