Interview: Makoto Tezuka, Akio Ohtsuka and Yuko Mizutani
by Chih-Chieh Chang,

In order to promote their new movie Black Jack: The Two Doctors of Darkness, director Makoto Tezuka, son of Osamu Tezuka, arrived at TIBE 2006, alongside the voice actors behind the film's two protagonists, Akio Ohtsuka (as Black Jack) and Yuko Mizutani (as Pinoko). Reiko Okano, Tezuka's wife and the manga-ka of Onmyouji, accompanied her husband at the panel but did not appear on stage.

To everyone's surprise, Ms. Mizutani had donned a Gothic Lolita dress! Unfortunately, not many fans got a chance to fully appreciate it.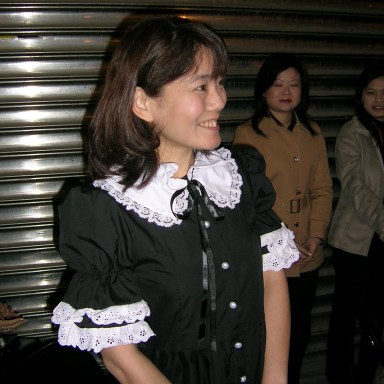 Two cosplayers, playing Black Jack and Pinoko, were invited on the stage for pictures together. Words couldn't describe how happy they were. They were the same "couple" that cosplayed Black Jack and Pinoko last year at 2005 Comic Exhibition @ Taipei.

Please briefly tell us about the movie.
Ohtsuka: Unlike the TV series, the movie has merged three chapters (of manga) together, so audiences will have very different experiences, especially when dealing with the issue of the importance of human lives. Please tell all your friends to watch this wonderful movie.
Mizutani: Don't forget the co-aired "Dr. Pinoko no Mori no Bouken", in which Pinoko is the lead!
Are those you are wearing parts of cosplaying custume? How do you feel when you see those cosplayers playing your character?
O: Cosplaying is quite common in Japan today. However, most cosplayers choose more "hot-blooded" characters, such as Naruto. This is the first time I've seen cosplayers playing Pinoko and "myself," so I'm very happy.
MC: Do you think her (note: Black Jack's cosplayer is female) scar looks realistic?
O: Very realistic. Oh, and you are a beautiful person (bijin), so don't create scars on your face in real life (laugh).
MC: Are you impressed with Taiwanese fans?
M: Taiwanese fans are very passionate. I'm very happy to meet you guys.
Two questions. First, for both of you: aside from Black Jack, which of your performances do you feel is your most impressive? Second, to Ms. Mizutani: do you wear this Gothic Lolita costume often? Finally, please pose Pinoko's trademark expression: Acchonburike (アッチョンブリケ)!!
O: Gwendal in Kyo Kara Maoh! is very similar to Black Jack, who's also very handsome.
MC: Ah, so you love handsome guys (laugh).
M: Onee-chan of Chibi Maruko-chan, who is very different from Pinoko, but if I could reenact myself I'd say Pinoko is more similar to me.
MC: Is that so? So one feels he's more similar to handsome guys, and the other feels she's more similar to kawaii girls, could you please show us the most kawaii pose of Pinoko-chan?
M: Acchonburike!! (with her hands squeezing her cheeks)

MC: Kawaiiiiiii! Once, once more please!
M: Acchonburike!!
MC: Thank you very much. Now, after the belle, how about a pose from our handsome guy?
O: (With two octaves lower) Acchonburike!!

MC: Once more please?
O: (Slow motion, with even lower voice) Ac—chon—burike!!
MC: Thank you very much. Now we can see that in addition to vocal expressions, seiyuu have very dramatic facial expressions as well. I bet the most awaited performance for fans and press is a live talkshow between Black Jack and Pinoko. Could you ad lib? We'd like to setup a scene: we all know that Pinoko call herself Black Jack's wife, so can we ask Pinoko trying to force Black Jack to spoil her?
Pinoko: "Chenchei" (Pinoko's accent for "Sensei"), can you bring me to see the new Black Jack movie?
BJ: I'll bring you there as long as you're good.
Pinoko: Hooray!!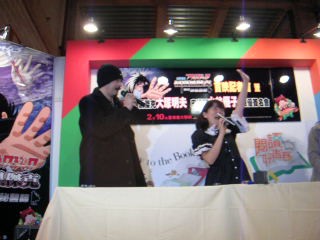 MC: Thank you for your excellent performance. Now we'd like to invite director Tezuka and the two lead voice actors to autograph the poster together.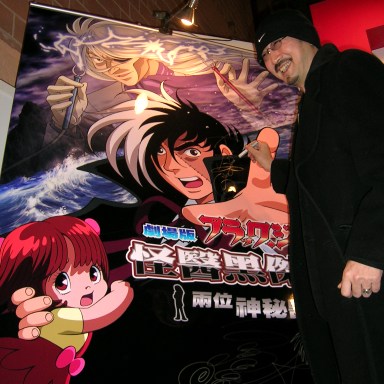 The autograph session soon followed, and after the session the two voice actors took a picture together with happy fans.


After a brief rest, the two moved to a conference room for further interviews.
D: In this movie, Dr. Black Jack was under tremendous pressure and in dangerous situations, more than ever before. I'd like to know how Mr. Ohtsuka felt when playing this part of the movie.
O: I'm very surprised that although the protagonist is Black Jack, I felt like I was watching James Bond (laugh).
Do you cosplay often? Do you like the costume you wear today?
O: This is not cosplaying. I wear those coats regularly, for winters in Japan are very cold, and coats are necessities.
M: No! I don't have the courage to cosplay Pinoko. However, Pinoko did appear in Gothic Lolita dress in a new manga (remake?). In order to dress like this, I've got enough guts to jump down from the top of Taipei 101 (laugh).
Q: Because this movie dealt with two doctors, could Mr. Ohtsuka tell us how you interacted with Chirico's seiyuu (Takeshi Kaga)? Had anything funny happened?
O: Nothing interesting in particular. However, Mr. Kaga and I had been together in a movie, where I was "killed" by him. Now, five years later we met again, and I told him "long time no see! That slash doesn't hurt anymore." And he replied, "That's a relief."
Ms. Mizutani has a nickname "supersonic seiyuu" for her voice as Pinoko has an ultra-high pitched scream. Do you need special training and/or maintenance to perform such a scream?
A: I don't use any particular skill; just yell with a little additional force and my voice would become Pinoko's. Whenever I hang out with others at dinner, I often call waiters with "excuse me!" really loud, and I'd say that's my practice.
MC: Thanks for the interview today. Please have a picture in front of the poster together.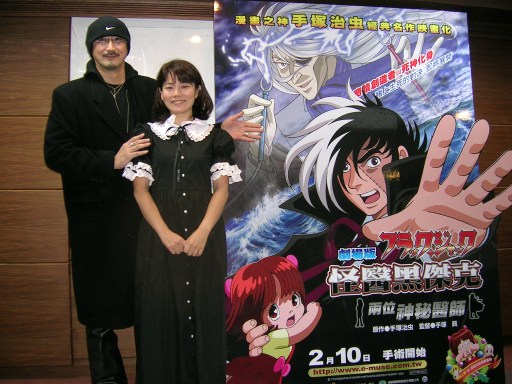 ---
discuss this in the forum (12 posts)
|
back to Taipei International Book Exhibition 2006
Feature homepage / archives